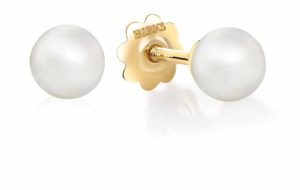 Everything old is new again
Outten says there are few gifts that can be handed down or kept that last for generations. Yet, children are still wearing the same types of baby jewellery they wore centuries ago, she points out.
"It is very common to see babies in our city wearing a bangle bracelet or a tiny cross or locket around their necks," she says.
The most popular antique baby jewellery Croghan's sells would be the baby pin, often decorated with enamel or pearl.
"These are very often pinned at the back of an heirloom christening gown, since buttons were not used back in the day," Outten explains. This jewellery type provides infinite flexibility for its tiny wearers. "A pin allows room for either chubby necks or scrawny necks as the gown gets passed down to babies from one generation to the next."
Today, these antique pins still hold charisma for a new generation of youngsters. "Very often here, you'll see these pins at the front collar of a little girl's smocked dress on a Peter Pan blouse under a little jumper."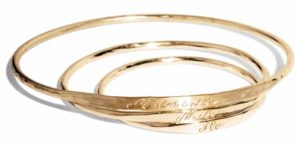 Outten understands gifting jewellery to babies and children is a lasting gesture, an idea reflected in offerings like the Add-a-Pearl necklace, which begins with one pearl and allows more to be added on special occasions such as birthdays, Christmas, Easter, a baptism date, or the first day of school.
"For less than the cost of a well-made toy, you have created a meaningful piece of jewellery that will last forever and be worn on special days like graduation and wedding days," she says. "As a jeweller, it produces a fabulous touchpoint with customers over a lifetime."
Little ears to adorn
Esther Fortunoff, president of New York-based Fortunoff Fine Jewelry, has a special fondness for babies' and children's jewellery. Fortunoff has been offering these distinctive items since 1975. In her business, it soon became apparent what the top choices are for tiny tots.
"The best sellers have been earrings, because they are available with safety backs. And bracelets too; they tend to be less of a problem because they are not going to catch since they are generally not too loose," she says.
With so many categories available today, what should gift-givers keep in mind before purchasing a piece of jewellery for a young recipient? When it comes to buying jewellery for the junior set, Fortunoff shares her perspective.
"Gift-givers should think about the lifestyle of the parents," she says, "and also consider the cultural background of the child's family."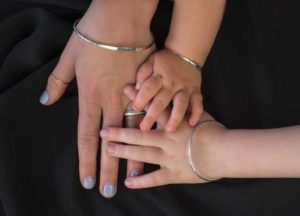 Keep it interesting
The collection of babies' and children's jewellery offered by Canadian retailer Birks has grown with the times since the company's founding in 1879, allowing customers to keep discovering something new and relevant for young ones. According to Aynsley Knight Mariani, director of public relations at Groupe Birks, the company's children's department is continually growing.
"Particularly, we are noticing a rise in the 'mommy and me' trend," Knight Mariani says, referencing a movement where moms and children can purchase matching pieces. "This year, we launched the Plaisirs de Birks silver or gold bracelet, which can be engraved to match the adult version."
Yet, even with all the creativity directed at keeping things fresh in this niche, Knight Mariani says pricing has remained stable within the children's department. "Our focus is to create pieces that will stand the test of time and will be passed on through generations."
Once customers step inside the children's department, impulse buys are bound to happen. However, most shoppers are on a mission.
"Many purchases are made for celebrations, like births, baptisms, birthdays, and flower girl gifts," says Knight Mariani. "A lot of customers come into the store with their child to make a purchase."
Purchasers expect to find more options today in this category. For instance, Birks' Snowflake studs are offered in two diamond carat sizes and can be worn well into adulthood, as they are intended to grow with the child. However, the company's bestsellers in the children's group are still sterling and pearl items, revealing how just timeless these classic pieces are.