By Sonja Sanders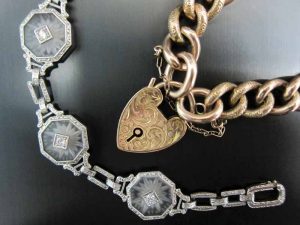 Many jewellers welcome estate items from clients who are looking to not only liquidate or consign, but also consult with them on other items of interest. Often, retailers find selling smaller, manageable non-jewellery items in their stores to be a successful stream of income, as popular television shows have glamourized the market for pre-owned items. Brick-and-mortar businesses can leverage the current interest in the sale of estate items to help bring a new type of traffic into a store and compete with Internet shopping.
When times are tough in the retail sector, one should be aware the public has items to sell. (Also, many jewellers and appraisers see so many vintage items anyway that some acquire a curiosity and passion for antiques and items of interest.)
Further, many appraisers are meeting clients who are handling family estate items and looking for contacts to sell to. If you are looking for opportunities to expand into estate items or to collect, then the potential exists for a new wave of clients to connect with your store. However, it is important to know where to look for these items.
 Markets
Weekend collectibles markets are growing stronger within communities both small and large, and even attract tourists in search of fascinating items. Websites—especially eBay—also sell collectibles, with the most popular focusing on specific manufacturers, design, and rarity. (Popular categories include Waterford, Baccarat, Coca Cola, Hot Wheels, and Harley Davidson.)
Vintage watches are often sought after, and there are many avenues for seekers to look down. Several clients have told me they love buying these classic watches (such as Rolex, Cartier, Piaget, and Omega) from Florida specialty dealers or when visiting Great Britain. A directory listing antique shows across Canada and their dates is also available online. In the Toronto area, for example, one popular option is Heritage Antique Shows, which takes place at Centrepoint Mall.
Antique stores, vintage clothing stores, and gift shops usually stock vintage items. During warmer months, outdoor antique and estate fairs often pop up, and it is possible to visit weekend markets where collectibles are a specialty throughout the year.