Which items spark strong interest?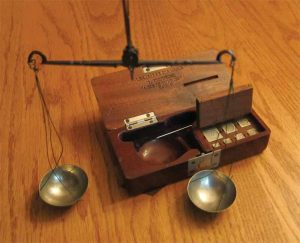 Popular items across vintage markets include vinyl records and extended plays (EPs); collectors of these items look for original covers and, of course, big names like the Beatles and the Rolling Stones.
Original movie posters from any genre are also seen in stores, markets, and fairs. The key to these is simple: the more popular the film and the better the poster's condition, the more valuable it is. Sewing enthusiasts look for vintage thimbles, decorators pick up early pen-and-ink desk sets, and Christmas lovers have a ball with selections of antique ornaments, tree stands, Victorian-style greeting cards, and sheet music.
Recently, I spoke with Sharon Beaudry-Sanders, a weekend vendor at a market in Ontario's Durham Region who buys from sources such as estate sales and people who are downsizing. She remarked on how steady business is and on how estate items and oddities that appeal to people looking for the unique, different shapes, and standout colours are doing well. Indeed, the trend to revert to mementos and sentimental items remains strong. She is now branching out and is involved in auction sales during the week, thanks once again to television shows making collectibles so popular.
Early toys in good condition are attracting many collectors, and English brand-named old china patterns also sell well. Victorian items are also popular—a trend Beaudry-Sanders believes is gaining ground because many people are having themed tea parties. Sometimes these events draw massive crowds, and not just small groups of people. Many people are also looking for any vintage item reflecting this period, as decor and unique gift items are popular for themed bridal showers. A few years ago, 1920s-themed items were all the rage, given the rise in popularity of The Great Gatsby.
Vendors and giftware sellers are always in search of silver or silver-plated cutlery patterns, china plates and tea sets, crystal dishes, traditional serving items, gloves, purses, and more for their businesses.
Steampunk enthusiasts are dedicated vintage collectors. They will wear beautiful traditional clothing, jewellery, headgear, and goggles, and they collect brass items. If a retailer can concentrate on these interests, too, it's an added bonus—my own steampunk-happy cousin wore a huge smile as he carried a brass and copper purchase away from a recent estate buy.
Among the smaller antique items that sell well are barbershop wares such as straight razors, eyeglasses—especially the simple wire outline—and magic items such as cards and prints. Are you a child at heart, too? Many board games from my youth are available at markets in their original boxes. We can still enjoy a game or two on the original foldout Monopoly board with the familiar white-metal playing tokens, while our children play the same game with electronic banking cards.
Not all sellers have room for larger items that draw constant interest, such as jukeboxes, pinball machines, and vending machines. However, if you have the space, there's definitely a buyer searching for that perfect Coca Cola fridge to show off on his or her deck at a barbecue.
Looking for functional items
Are there many retail stores left that actually sell linen? If so, I am sure it's quite expensive. On the other hand, vintage linen—as plain or fancy as your customer could ever want—can be found at great prices. Since the linens are 'gently loved,' they can be more affordable than their brand-new counterparts. Decades ago, people overbought linens of varying styles, then liquidated them as estates were settled. As sellers are seeing a renewed interest in linens, prices are lower because the retailers who once gave up space to sell these items remember being stung when the interest in them dropped so drastically.
Victorian lace, hand-stitched crocheted doilies, or long white linen tablecloths for the family Thanksgiving table can be found at Victorian specialty shops, vintage linen websites, or at flea markets with dealers who appreciate handmade articles.
Other popular functional items include magnifying glasses and binoculars. Decorative door knockers are also top sellers. If you want to have cooking ware as part of your store offerings, there are great collections of cookbooks, scales, and measuring tools available.
I never tire of beautiful brass decorative lamps, especially Tiffany style. Made of metal or ceramic and large, small, fancy, or linear in design, these lamps are hidden out there in the estate markets and ready to buy and put on display. They're guaranteed to make a room feel warm and cozy again.
If a jewellery store expands its interest beyond purchasing and selling estate/antique jewellery, it may invest in smaller, easily displayed vintage non-jewellery items, actual antiques, sculptures, and carvings. Large items take up valuable space for a retailer and are better suited to estate dealers and market locations.