The last hurdle—a huge mistake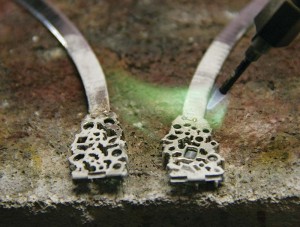 In my haste to design the necklace, I had forgotten completely how oddly shaped the sapphires were. They had been cut by someone who was just practicing the art of faceting; he may not have ever intended for them to be set. In some cases, the girdles were a full two millimetres thick. Many of the stones, like the pale blue sapphire in the top photo on page 4, had 80-degree pavilion angles. Unfortunately, I had made the error of using the CAD program's default settings to adjust the basket crown's prong height. The prongs were in many cases too short to reach over the top of the stone's girdle. Where appropriate, I was able to add metal to the prongs' tips, but in some cases, I had to rebuild and recast several of the necklace's sections. It goes to show you are never too experienced to make mistakes.
I was completely blown away by how accurately the growing machine created the six hinges that were to be hidden behind the sections. They fit together remarkably well. I had built tiny stops into the hinges so the sections could not open forward. This was done to prevent the stones that were tightly spaced from bumping into each other. It all worked beautifully! The only thing I had to do was to use a watchmaker's cutting brooch to ream out the insides of the hinge tubes. After that, the rivets fit perfectly and I hammered their tips flat to lock everything in place.
The final step was to cut the collar in two pieces and solder sections 'one' and 'seven' to it. Since I had designed end caps for these end sections, the collar slipped right inside the cap and a small amount of easy-flow solder was used to seal it in place. It felt so good to finish this project.
A bittersweet ending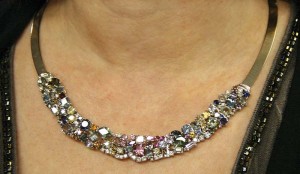 Our customer loved her new necklace. She cried for a long time when she saw it. She just kept touching it and saying things like, "Dad would be so proud of this. I wish he could be here to see it." With the redos, the necklace ended up taking a total of 170 hours to complete. That was 15 hours longer than I had anticipated. I finished the piece on Dec. 28. For only the second time since becoming a bench jeweller, I had missed a Christmas deadline.
This article was important to me to write, not because I enjoy discussing my mistakes. On the contrary, I rarely, if ever, like to admit to making an error. I wrote this because I very much want younger bench jewellers to understand they are never old enough and never smart enough to prevent every error. As bench jewellers, we can't know what project will come through the front door next, and we can never know the perfect method to conquer each one. That's both the frustrating and the exciting aspects to our careers. Instead, we should try to learn something from each job. Some of those projects might temporarily beat us up, but the real error is to allow them to beat us down.
For the next issue, I'll be back on safe ground discussing a star-studded pavé project. I hope you'll join me.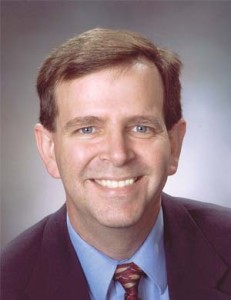 Tom Weishaar is a certified master bench jeweller (CMBJ) and has presented seminars on jewellery repair topics for Jewelers of America (JA). He is an award-winning columnist, picking up Silver at the Kenneth R. Wilson awards for his six-part series on stone-setting techniques. Weishaar can be contacted via e-mail at tsweishaar@gmail.com