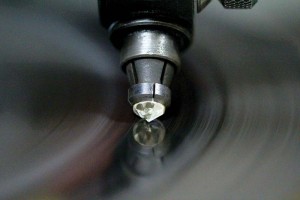 No doubt, the diamond industry's current struggles are serious. Rough prices continue to outpace that of polished and consumers seem to have become disenchanted with the idea that a diamond is forever. To help bring the sparkle back, OM developed its 'Diamond DNA' program, which provides consumers with an additional certificate that tells the tale of their particular diamond.
"Each diamond has a story," Peres says. "How much did the rough cost? How much time did it take to cut the diamond? What was the initial planning for the cut? The certificate gives the diamond added value, and when you're talking about marketing to millennials and getting them to buy a diamond over a luxury trip, you focus on how special a diamond is; a trip lasts for a week and it's gone. A diamond lasts forever."
So how is Ofer Mizrahi Diamonds handling the pricing crisis? "We are not disconnected from the market, but we turn over goods very quickly, which lowers our exposure to fluctuating prices," Peres explains. "Since we're not sitting on inventory, we are much less sensitive to these problems. We also analyze everything and reprice our goods almost every day on items that have gone out a few times and haven't sold. We focus on the best-selling items, the bread-and-butter stones, rather than anything that's speculative."
What's OM's plan for Canada? Building its inventory of Canadian diamonds is a priority. And one day, it may even set up its own cutting facility in the Great White North. "We would need to be established with more Canadian rough," Peres explains. "But we have the people and professional knowledge to train cutters."
It sounds like there's still plenty of sparkle left in diamonds.