Politics of a colour
In the 1860s, esteemed Ivy League university Princeton chose orange as one of its official campus colours in homage and to celebrate its historic link to the Dutch Royal House of Orange. History buffs might recall the reign over England and Ireland by the Netherlanders, William III and his wife, Mary II, in the 1680s, and how their rule changed history, but that's another story. The colour's popular use in Holland for official celebrations continues to this day, and it's also utilized around the world to designate Protestantism.
Variations of a colour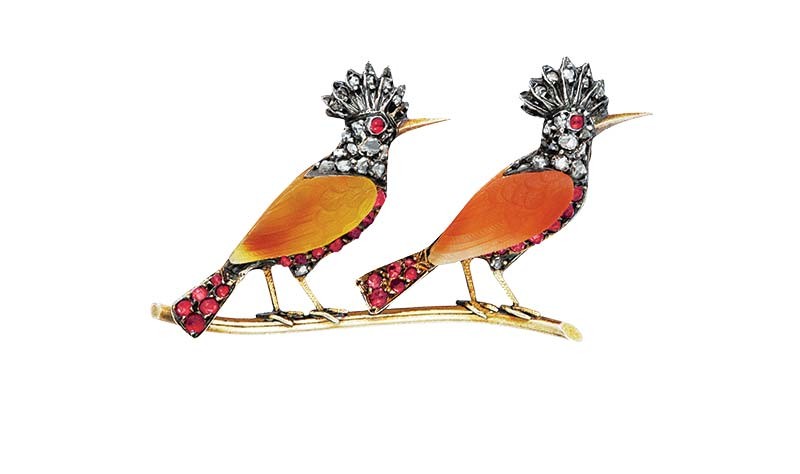 The assortment of orange-hued gemstones has inspired jewellery designers throughout history.
Take Carnelian, a type of chalcedony. Translucent and a popular material carved en cabochon, it's often used in beaded bracelets and necklaces, and frequently as flat plaques for intaglio seals in signet rings. Broad-minded Victorian gentlemen might have sported a risqué erotic scene from antiquity on their pinkie finger or watch fob. Cartier used carved carnelian leaves in a 1980's version of its 'Tutti-Frutti' motif pieces and a decade earlier, many of Aldo Cipullo's designs featured various orange shades of carnelian beads and discs. Marina B has a series of earrings with interchangeable drops, one of the choices being a dramatic dark orangey brown carnelian. Bulgari's familiar 'Tronchetto' series consists of rings with smooth clean mounts featuring a choice of gemstones, including polished chunks of saddle-shape carnelian and citrine. Brownish-orange sard—part of the extensive quartz chalcedony family—spessartine, and hessonite garnets and fire opals, are other variations on the orange theme.
With a nod to Russian aristocracy, Imperial topaz is the pinkish-orange variety, while the predominantly orange-type is called Precious topaz. Those stones leaning to a more pink or a deep sherry colour tend to be the most valuable. A richly coloured orange topaz is the central highlight of a navette-shape diamond brooch from 1925. The Victorians and Georgians enjoyed wearing faceted topaz necklaces set with the palest taupey beige-orange stones in graduated collets. A detachable pendant could be worn as a brooch, and the stones were sometimes enhanced by orange foil on the backs. Citrine often has an orange cast to it, as in a delicate antique brooch set with carved citrine bodies of kingfishers accented with rubies and diamonds and mounted in silver and 18-karat gold. Topaz and citrine are considered birthstones for November.