Changing with the times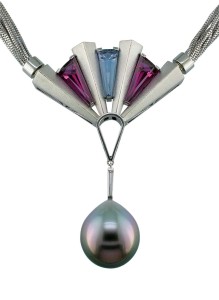 It wasn't until the Edwardian period that platinum became a popular metal for use in jewellery. This was fuelled by a change in the dictates of fashion, new supplies of diamonds and pearls, and improved technology to allow it to be worked. Prior to this, most jewellery was made with yellow gold or sterling silver (often backed by gold for strength when it was set with diamonds or gemstones). Most gems of the time were rose cut and these had to be set in closed, foil-backed settings. The silver and foil would eventually tarnish, which required the stones to be unset periodically so the foil backing could be replaced.
During the majority of Queen Victoria's long reign, her extended period of mourning for the loss of her husband, Albert, dictated that clothing should be very subdued and feature black or other dark colours—jewellery followed suit. Mostly yellow gold, pieces featured black stones, such as jet.
The Edwardian era changed all this. Ladies' fashions favoured pastel colours, blue, green, silver, and white, instead of Victoria's somber hues. Even during the final years of her reign, her son, Prince Edward and his wife, Alexandra, maintained a 'shadow' court where, in private situations, the strict colours of mourning were replaced by this more cheerful pastel colour palette. Once Edward took the throne, these soft colours became popular with everyone. Gemstones like pale amethyst, aquamarine, and natural pearls from the Persian Gulf replaced the darker hues of garnet and other deeper tones. These colours were far more attractive when set in white metal. Silver, the traditional choice, was not ideal, since it tarnished, making platinum the perfect solution.
During this period of Imperial expansion, significant deposits of fine diamonds were coming out of South Africa. The evolution of diamond cutting from old mine and European-cut diamonds, the precursors to today's ideal brilliant cuts, exploited their high index of refraction. The availability of platinum made it possible to create airy and delicate settings in a white metal that enhanced a diamond's brilliance.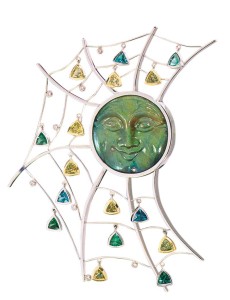 Platinum is a perfect medium for setting diamonds. Combined with its very good tensile strength, its inherent malleability, and ductility, it was ideal for the elegant designs of the Edwardian period, which incorporated lace and filigree esthetics. To achieve this, jewellers would begin with a platinum plate, draw out the motif, and then using delicate saws, gravers, and millgrain wheels, create the most beautiful and elegant open work. Platinum made it possible to set diamonds and other gems with the least possible amount of visible metal, while still providing enough structural stability to create durable and functional jewels.
Platinum use for jewellery peaked worldwide in the early part of the 20th century. However, it also has other very important applications in science and technology. Since it is inert, platinum can be used as a catalyst in many industrial processes, and in fact, jewellery use accounts for less than 25 per cent of global platinum consumption. Today, more than 50 per cent is used in the auto industry in catalytic converters, while the remaining 25 per cent is used for other industrial purposes. It was so important that platinum was declared a strategic metal during the Second World War and its use was barred by governments for all non-military purposes. This ban prompted the development of white gold as a replacement for platinum, and it has taken many years for the latter to regain its former lustre in the jewellery industry.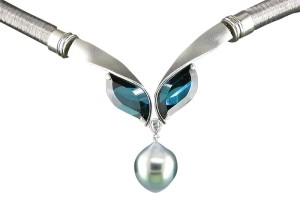 While platinum remained a popular choice for the highest echelons of jewellery design after the war, it made a major resurgence some 20 years ago, mainly due to extensive promotion carried out by Platinum Guild International (PGI) and designers like Scott Kay. Consumers were bombarded by advertisements promoting it as the best possible metal for fine jewellery.
Many jewellers would argue this is only partly the case. When used in the right application, in certain alloys, and incorporating correct techniques, platinum is indeed a superior choice for some jewellery. However, just because you can make jewellery from platinum does not necessarily mean that you should. When designing with platinum, it is important that you consider all factors of a piece and prepare the client with the advantages and disadvantages of using this metal in a particular application. Doing so can help avoid a disappointed customer coming back to you after they have had the piece for a few months and realize it isn't what they expected.
Let's look at some of the pros and cons of platinum for jewellery use.