Alternatives to platinum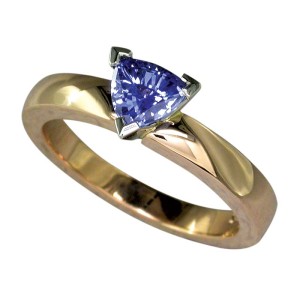 When use of platinum was banned, jewellers had to come up with other options to meet the demand for white metal jewellery. This led to the development of white gold alloys. Nickel is commonly used as a bleaching agent in white gold alloys. Unfortunately, nickel and gold are not very compatible, making it necessary to use small amounts of copper and silver to improve the workability of white gold alloys. This, of course, dilutes nickel's effect as a bleaching agent and the resultant alloys are varying shades of 'almost' white. In addition, some of the alloys are whiter when freshly polished, but eventually tarnish and need to be re-polished at intervals. They may look fine on their own, but when used as part of a two-tone piece with yellow or rose gold, the degree of contrast between the two metals will be rather disappointing.
Of course, the vast majority of commercial white gold jewellery in North America is electroplated with rhodium to give it an attractive white colour. Yet, this plating is only skin deep; it wears off rather quickly and needs to be re-applied to maintain the white colour. This is especially true for rings and bracelets, which are subject to more vigorous wear. Many clients are not told their new ring has been electroplated and are disappointed to discover they will need to keep bringing it back for re-plating. Nickel-based alloys are also an issue for the minority of clients who have varying degrees of allergy to even the small amounts of the metal in a piece of jewellery. Some only react to the intimate contact of earring posts, while others can get a rash from a delicate nickel-alloyed chain. Most European countries have banned the use of nickel in white gold alloys due to common allergies to this base metal.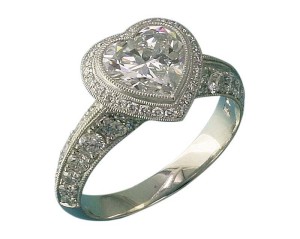 Palladium, another of the platinum group metals, is an alternative to platinum. In its pure form, it is far too soft to craft durable jewellery and is therefore typically alloyed with gold and other noble metals to harden it. It isn't quite as pure a white colour as platinum, being on the grayish side, but it has seen increased use in recent years. Palladium alloys can offer the advantage of significantly lower price points and also the same hypoallergenic qualities of platinum.
It is important to make an informed choice when deciding which metal to use for a particular purpose. Communication with your client is critical to ensure they are aware of the pros and cons of the various metal choices. There is a perfect metal for every application and the right choice can result in a beautiful jewel and a satisfied client.

Llyn L. Strelau is the owner of Jewels by Design, a designer-goldsmith studio in Calgary established in 1984. His firm specializes in custom jewellery design for a local and international clientele. Strelau has received numerous design awards, including the American Gem Trade Association's (AGTA's) Spectrum Awards and De Beers' Beyond Tradition—A Celebration of Canadian Craft. His work has also been published in Masters: Gemstones, Major Works by Leading Jewelers. Strelau can be reached via e-mail at designer@jewelsbydesign.com.