The next phase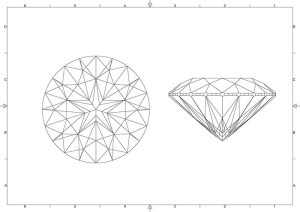 Today's diamantaires realize there is more to a diamond's draw than its sparkle, as high-end collectors add a couple more requirements to their short list when it comes to pricey stones. They may not always know what they want, but they certainly want to be offered options.
Tags like 'premium,' 'ideal,' 'excellent cut,' 'branded,' 'specialty cut,' and even 'patented cut' now populate marketing speak as a means to distinguish these stones. Let's review some of the terminology to get the lay of the land.
Premium diamonds indicate a superior make and, as the name implies, are supposed to perform better. They may also serve to show their owners are status-minded and can buy the best. Similarly, the use of the word 'ideal' signifies a diamond's cut, polish, proportions, and symmetry have reached the industry's ultimate parameters.
Branded cuts are premium—and sometimes patented—diamonds created to satisfy the desire for something special, a sparkling status symbol if you will.
Not always branded to a retailer or manufacturer, specialty cuts veer from their traditional counterparts in obvious or subtle ways like extra faceting or a unique outline, and may be identified to a cutter's individual style.
These distinctive darlings represent a thriving sector today as consumers are exposed to more of their marketing. Diamond cutters and merchants share with Jewellery Business what's involved in promoting these critical cuts.
Show 'em the facets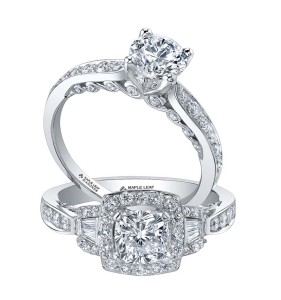 Something 'new' has different connotations for each diamond fan. While savvy collectors may arm themselves with brand names when they go shopping, others seek to be educated on what the latest evolution in diamonds can offer.
"When clients come in, most are looking for a diamond, and many are looking for one of Canadian origin, but not always a particular brand," says John Anderson, president of Davidson's Jewellers in Ottawa. "They may mention a certain diamond or ideal-cut brand they have heard about or seen in marketing campaigns, and we show them something comparable."
Norbert Brinkhaus, president of Brinkhaus Jewellers in Calgary and Vancouver, finds most sophisticated jewellery consumers seek out the latest to make a big splash. "They are looking for showy diamonds to [impress] others in social settings."
For these demanding customers, the issue of diamond performance is introduced into the sales presentation. Performance communicates the way in which a diamond handles light. In high-performing diamonds that are often cut to new standards of precision polishing and symmetry, the goal is for more scintillation and brilliance, or the ability to produce an outstanding sparkly effect. This can assist enormously with their sale. Consumers expect to pay more for high-performance stones, as they can ascertain the difference when comparing them side by side with standard round brilliant diamonds. A retailer with a broad customer base should consider providing a range of diamond goods and letting the client decide what they want. That keeps the client in their store, rather than going elsewhere to comparison shop.
Maarten de Witte, executive director of Saskatchewan-based Embee Diamonds, says shoppers may be quite happy to spend more to get a dramatic high-"¨performance diamond made to impress."¨"Today, most experts and consumers agree that slight nuances in polish, symmetry, and proportions—individually and collectively—have a noticeable effect on light performance," he explains. "Stones with excellent- or ideal-cut pedigrees from the Gemological Institute of America (GIA) and American Gem Society (AGS), respectively, are commonly regarded as setting the highest standards, and therefore command premium value."