Who's your diamond?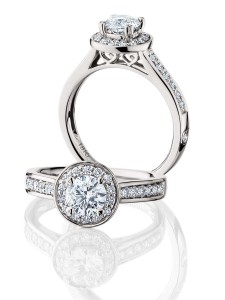 These days, retailers are trending toward producing their own exclusive in-house brands to gain an edge over their competition. Anderson says having a proprietary diamond brand can provide a retailer more control over pricing, making the diamonds more attractive to serious buyers. Davidson's own signature ideal cut—a round brilliant stone cut to AGS triple ideal standards—shows a crisp 'hearts and arrows' pattern and is usually reserved for clients looking for the best in cut. "Since it is not a large brand, the pricing is very competitive," he adds.
De Witte points to his work with Embee Diamonds and its proprietary cut. "They specialize in modified rounds with a star pattern added to the pavilion that is clearly visible in the face-up position, neatly framed by the table. Several versions show five-pointed, six-pointed, eight-pointed or 10-pointed stars. And stars may have a host of symbolic meanings for the consumer."
The word 'symmetry' is critical to discussing premium diamonds. De Witte points out that standard round brilliants are never completely symmetrical, considering their pavilion is comprised of three tiers of lower-girdle facets, while the crown pavilion has four tiers.
"Up until very recently, the task of cutting diamonds was mostly a repetitive effort of producing 58-facet round brilliants, and sometimes close derivatives like ovals, pears, marquises, and heart shapes," he says. "Diamonds are very hard to cut and they are very expensive even in the rough. So mistakes are also very expensive. Until the advent of computerized modelling, it has been cost-prohibitive for cutters to execute their designs."
On balance, the premium-cut diamond customer expects to pay more for the distinctive qualities of such stones. But not all serious collectors end up buying these diamonds, reminds Barbara Kelly, co-owner and director of business development at Anne Sportun Fine Jewellery in Toronto.
"We don't use branded diamonds," she says. "Instead, we use unusual-cut stones for customers searching for an alternative to the traditional diamond. True, they often begin the search looking for something more in line with a classic ring. But when they discover the rose cut and other irregular-shape diamonds that are less flashy and more understated, they discover it's a good fit for their personality."