Moving to the present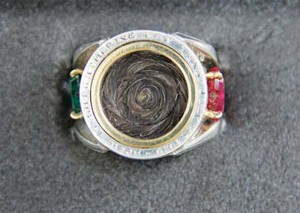 Celebrating a life that is gone can take many forms. Early in my career, a client came in after the death of his partner from a terminal illness. They had only been together five years, although they made the best of their time, spending it travelling. His request was to design a ring that symbolized their relationship. A lot of discussion ensued and the ring design evolved. First there was a white gold band that represented the continuum of life. Overlaid on this base were two yellow gold bands separated by a gap. One band contained five finite steps representing the five short years they had together. The second gold band was a sinuous, endless curve indicating the unknown and perhaps infinite future. The gap between the two bands had rugged rough edges to show the rupture of his loss. These two components of the owner's life were bridged and connected by a bezel-set purple sapphire, which he had purchased on a vacation to Asia. When it was completed, my client wore the ring with pride.
Another client came in after the too-early death of her only brother, whose nickname was Bud. She, too, wanted a ring in memory of him, so I designed one with a pair of hand-fabricated pink gold rose buds. A yellow gold stem joins the two flowers with green gold leaves and white gold thorns (to remind her of the pain of death). Again, this was a very personal statement; she could either explain its story if she wished or simply let others admire it without knowing the significance of the ring's design.
Reliquary jewellery is another thing altogether, and I have had the honour of designing and creating several over the years. In most cases, the client wants to have  jewellery to hold ashes of their loved one. This can be as simple as a commercially produced locket or a fabricated custom-made receptacle.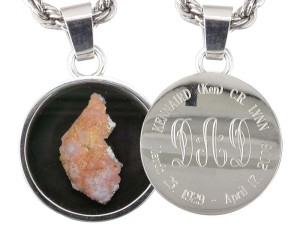 My client, Mary, came to me after the loss of her son in a senseless car crash. He was only 20 and the devastation to her life was intense. We had many meetings during the course of making her reliquary pendant and there were tears of sadness and joy during most of them. She did not want a simple locket, but rather something that would be reflective of her son and his life. His best friend was his white German Shepherd, and so we modelled a profile of one and cast it in white gold, making a matching domed back piece to form a hollow form. Since the dog had touches of colour in his ruff and head, we added subtle overlays of yellow gold. My client said the dog loved to play and always had a ball or two in its mouth, so we set an emerald cabochon in the mouth, as her son was born in May. I set a diamond from his father's wedding band to serve as the dog's eye.
Figuring out how to securely enclose the small amount of cremains posed a bit of a problem. Obviously, we couldn't solder the piece closed with the ashes inside and this commission happened before we had a laser welder. The solution was to make a small pouch from a thin sheet of lead. Placing the cremains in the pouch, we folded over the edges and used soft solder to seal the package. This was then enclosed in the two halves of the white gold pendant. The front piece had several registration pins that fit into holes in the back plate, enabling us to rivet the two halves together. To achieve a watertight seal, we used silicone before the final closure.
Due to budget and personal preference, another client decided to simply purchase a commercial 14-karat gold heart-shape locket to hold her husband's ashes. We used the same technique of placing the cremains in a lead pouch and sealing the locket with silicone."¨We engraved his dates of life and initials on the back.