It is encouraging to note perliculturists are not satisfied with their achievements, and they continue to offer better and better pearls to the jewellery market, striving for quality. For instance, in China, big pearl producers allocate money to scientific research, as they are willing to learn how to improve the existing standards. Likewise, Japan does not stay behind or slow down.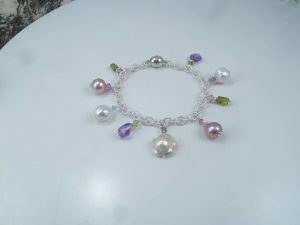 For about a century, Japan—the first country in the world to grow cultured pearls on a commercial scale—was a monopolist in cultured pearl production and distribution. It was 1966 when the annual pearl production reached its peak of 230 tonnes. However, in the following years, due to various reasons, the annual production of pearls in Japan started decreasing down to 15 tonnes in 2008 and 2009. Then, a slight increase in annual Japanese pearl production was observed, going up to 19 tonnes in 2013. Obviously, the reasons for this drastic decrease in pearl production are numerous, including competition, sea pollution, high production costs, and overproduction. Pearl farming is a tough business. Still, Japan remains a major producer of high-quality saltwater pearls.
Today, bearing in mind current challenges and tendencies, Japan continues to take steps to strengthen its position in the industry. This is now done at the governmental level. In 2016, the Japan Pearl Promotion Law was signed, to be implemented officially this past summer. It is supported by three major committees—namely, a farmers' committee, a committee of pearl distributors (including importers), and a committee on education and promotion.
Acknowledging the importance of the pearl industry in Japan, the law is supposed to reinforce the country's pearl sector, encompassing all levels from production, processing, and distribution to marketing and promotion, as well as education and acquisitions of the latest technologies. Naturally, research and development that would boost product quality and productivity are of paramount importance. In general, this government-led campaign is intended to fortify the collaboration between the government, public organizations, traders, and scientific institutions rendering financial, technical, and moral support to the pearl industry.
"A framework is in the works," said Yoshihiro Shimizu, chair of the Japan Pearl Exporters' Association (JPEA), in this year's Pearl Report. "We are fleshing out more details and forming a special committee composed of representatives from the industry and the government. We are planning to do something within the year."
All these measures will stimulate the people working in the industry, resulting in the production of high-quality and competitive pearls. In turn, consumers on different levels will win, as they will be offered a high-grade product. Will this mean more competition? Probably—however, it is competition that incites people to advance in order to succeed.
Given all these factors, it is not surprising to come across phrases such as "pearls resurgence" or "pearls renaissance." Indeed, in recent years, pearls have been steadily experiencing a renaissance, becoming a favourite trendy gemstone again. More and more jewellery designers are reinventing timeless pearls, creating contemporary, versatile, interesting, and innovative jewellery at a wide range of price points that may appeal to different generations and reach various markets.
Olga Shevchenko, FGA, is certified as a  gemmologist and as a gem and jewellery appraiser. She is also the owner of Jewelry Olga, where she combines her passion for jewellery with her expertise in freshwater pearls, creating designer pearl jewellery. Shevchenko can be reached via e-mail at info@pearljewelryexpert.com.