Resurrecting the queen of gems
December 18, 2017
By Olga Shevchenko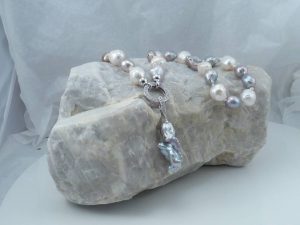 Many years ago, I came across a phrase: "A pearl is the queen of gems and the gem of queens." These words give the essence of what pearls are—unique, regal, and beautiful gems worn by the rich and famous. At that time, like many people, I was of the opinion pearls could only be white, round orbs—nothing special.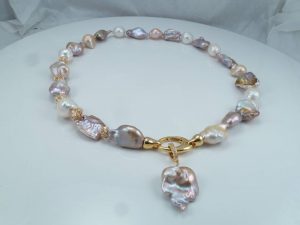 In the 20th century, when pearls started being cultured and mass-produced, they actually became an indispensible part of a woman's jewellery wardrobe. A traditional strand of small, white, round pearls (such as saltwater akoya pearls from Japan) has become an iconic jewellery piece. Today, many women have such pearl jewellery, having received it as an heirloom from their mothers or grandmothers.
However, fashion changes fast, and as a rule, new generations want to listen to different music. That is why it is no surprise a humble strand of pearls—with which Pearl King Kokichi Mikimoto dreamt of adorning each woman—became something outdated and boring by the end of the 20th century. Having been dubbed a 'grandmother's necklace,' it was buried in the jewellery box.
Years later, people have started reconsidering pearls. After the economic crisis of 2008, gold became very expensive, resulting in the rise of gold jewellery prices, and unsurprisingly, consumers were not willing to pay much more. Consequently, jewellers had to look for a gold substitute. They needed jewellery that would be lovely and not that costly. Pearls—classic, timeless, and beautiful—turned out to be one of the best options. By that time, the pearl industry itself had already undergone drastic changes.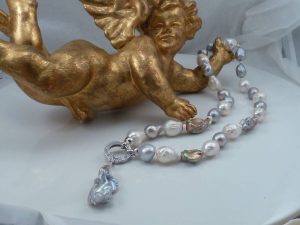 Since the end of the 20th century, the quality of pearls has considerably improved. New varieties have been offered in the jewellery market, including fireball pearls, Chinese Kasumi pearls, and soufflé pearls. It has become possible to find large pearls up to 20 mm (4/5 in.) in diameter with incredible colours—not only white, pink, lavender, or black, but bronze, purple, or golden with greens and blues, many of them displaying colourful iridescence. Pearls may have very high, even metallic, lustre. At the same time, they can be found in a variety of shapes. As a rule, the word 'pearl' evokes an image of a small, round orb. Yet, nowadays, there are pearls that have the most unthinkable shapes, including coins, sticks, rosebuds, and even chicken legs. The gems may also have a textured, mottled surface, which contributes to their amazing lustre.
The so-called Chinese Kasumi pearls that appeared in the market about 10 years ago belong to this new pearl generation. These exotic bead-nucleated pearls look like the very expensive and rare freshwater ones that were cultured in Japan's Lake Kasumigaura in the second half of the 20th century. Due to pollution, Japanese Kasumi pearls are scarce and costly now. Thanks to experimentation and hybridization of the Chinese and Japanese shells, Chinese perliculturists have managed to produce a hybrid mussel to grow similar-looking bead-nucleated freshwater pearls, which cost much less.
These spectacular pearls have different trade names (i.e. Chinese Kasumi pearls, ripple pearls, Ming pearls, or Edison pearls) and are distinguished by bright natural colours, as well as extremely high or metallic lustre and iridescence. The astounding rainbow palette of colours—mauve, blue, and green overtones to gold and silver, pink and bronze, copper and purple, and peach—makes them unforgettable, as do their orient and famous texture.
Moreover, at present, pearl prices are fairly reasonable, and the margins on pearl jewellery may be very good. As customers continue to be price-conscious, it is good to know and to show there is pearl jewellery for different budgets. A customer may choose to wear expensive saltwater pearls, such as white Japanese akoya pearls, white or golden South Sea pearls, or black Tahitian pearls, or they may end up buying freshwater pearls that look gorgeous, but cost a fraction of the price of the saltwater ones. As consumers want a product that has value and, at the same time, is different, fresh, and interesting, the wide price range of pearl jewellery plays an important role.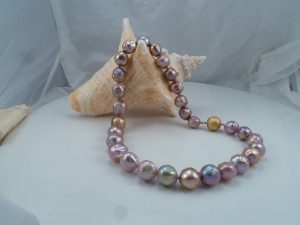 Given pearls' diversity, jewellery designers have an astounding material for their creations. It is not surprising nowadays many designers offer fashion-forward, trendy, and even edgy pearl jewellery as well as sophisticated, elegant, and timeless pieces that are always popular and searched for. Some even offer classic, timeless designs with a modern twist. This assortment of pearls and jewellery designs provides retailers with vast opportunities to offer clients. A customer may buy multiple pieces of pearl jewellery, as the choice is no longer limited to a traditional white necklace. Don't be scared to offer pearls with interesting colours, unusual or whimsical shapes, or rare textures—such pearls always stand out. One of the famous contemporary trends is layering jewellery and mixing pearl necklaces of various lengths, sometimes adding chains to the ensemble to create a very unique, fresh, and modern look.
It is encouraging to note perliculturists are not satisfied with their achievements, and they continue to offer better and better pearls to the jewellery market, striving for quality. For instance, in China, big pearl producers allocate money to scientific research, as they are willing to learn how to improve the existing standards. Likewise, Japan does not stay behind or slow down.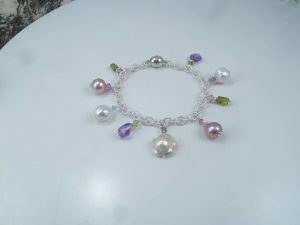 For about a century, Japan—the first country in the world to grow cultured pearls on a commercial scale—was a monopolist in cultured pearl production and distribution. It was 1966 when the annual pearl production reached its peak of 230 tonnes. However, in the following years, due to various reasons, the annual production of pearls in Japan started decreasing down to 15 tonnes in 2008 and 2009. Then, a slight increase in annual Japanese pearl production was observed, going up to 19 tonnes in 2013. Obviously, the reasons for this drastic decrease in pearl production are numerous, including competition, sea pollution, high production costs, and overproduction. Pearl farming is a tough business. Still, Japan remains a major producer of high-quality saltwater pearls.
Today, bearing in mind current challenges and tendencies, Japan continues to take steps to strengthen its position in the industry. This is now done at the governmental level. In 2016, the Japan Pearl Promotion Law was signed, to be implemented officially this past summer. It is supported by three major committees—namely, a farmers' committee, a committee of pearl distributors (including importers), and a committee on education and promotion.
Acknowledging the importance of the pearl industry in Japan, the law is supposed to reinforce the country's pearl sector, encompassing all levels from production, processing, and distribution to marketing and promotion, as well as education and acquisitions of the latest technologies. Naturally, research and development that would boost product quality and productivity are of paramount importance. In general, this government-led campaign[6] is intended to fortify the collaboration between the government, public organizations, traders, and scientific institutions rendering financial, technical, and moral support to the pearl industry.
"A framework is in the works," said Yoshihiro Shimizu, chair of the Japan Pearl Exporters' Association (JPEA), in this year's Pearl Report. "We are fleshing out more details and forming a special committee composed of representatives from the industry and the government. We are planning to do something within the year."
All these measures will stimulate the people working in the industry, resulting in the production of high-quality and competitive pearls. In turn, consumers on different levels will win, as they will be offered a high-grade product. Will this mean more competition? Probably—however, it is competition that incites people to advance in order to succeed.
Given all these factors, it is not surprising to come across phrases such as "pearls resurgence" or "pearls renaissance." Indeed, in recent years, pearls have been steadily experiencing a renaissance, becoming a favourite trendy gemstone again. More and more jewellery designers are reinventing timeless pearls, creating contemporary, versatile, interesting, and innovative jewellery at a wide range of price points that may appeal to different generations and reach various markets.
Olga Shevchenko, FGA, is certified as a  gemmologist and as a gem and jewellery appraiser. She is also the owner of Jewelry Olga, where she combines her passion for jewellery with her expertise in freshwater pearls, creating designer pearl jewellery. Shevchenko can be reached via e-mail at info@pearljewelryexpert.com.
Endnotes:
[Image]: https://www.jewellerybusiness.com/wp-content/uploads/2017/12/P1110112.jpg
[Image]: https://www.jewellerybusiness.com/wp-content/uploads/2017/12/P1110772.jpg
[Image]: https://www.jewellerybusiness.com/wp-content/uploads/2017/12/P1110114.jpg
[Image]: https://www.jewellerybusiness.com/wp-content/uploads/2017/12/P1110880.jpg
[Image]: https://www.jewellerybusiness.com/wp-content/uploads/2017/12/P1130904.jpg
this government-led campaign: http://jnashowdaily.com/201609/2016/09/13/japan-fortifies-pearl-trade-with-government-led-campaign/
[Image]: https://www.jewellerybusiness.com/wp-content/uploads/2017/12/P1140515.jpg
Source URL: https://www.jewellerybusiness.com/features/resurrecting-queen-gems/
---