Clues for the clueless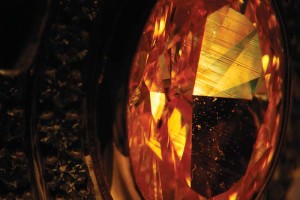 It's important to remember that positive identification of a modern synthetic diamond will most often need to be done by a laboratory capable of performing and interpreting the results of specific tests. In general, that means those labs in possession of deep ultraviolet imaging equipment, along with an infrared spectroscope, and their appropriate databases. This equipment and the necessary training for its use are currently available for purchase. However, the cost per potential use makes the expense difficult to justify for most of us. Eventually, as synthetic diamonds make further inroads into the mainstream jewellery markets, we may discover that some version of this testing equipment becomes as necessary to our business model as a binocular microscope is today.
However, we shouldn't be disheartened—even without having the 'ultimate' gadgets, we're not yet completely helpless. Many of us already have the equipment necessary to perform basic tests that might separate a large percentage of diamonds. The idea is to try to find evidence that a diamond is NOT synthetic using our microscope, spectroscope, ultraviolet lamps, rare-earth magnet, and a variety of filters possibly combined with immersion. If we can't determine that our client's diamond isn't synthetic, it probably needs to go to a major lab. The following tests are not likely to 'prove' a diamond is synthetic; we're simply building evidence for a reasoned conclusion.
Microscope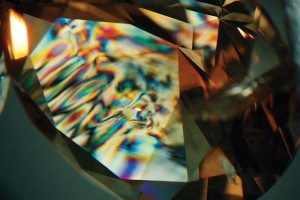 Most of us have looked at many hundreds of diamonds under the microscope and probably don't need much help recognizing inclusions. There are specific types of inclusions and inclusion assemblages that have never been found in a laboratory-grown diamond; therefore, if you find any of them, you're not looking at a synthetic diamond. One of the easiest to recognize as a signpost is a colourless crystal. A garnet crystal is also an indicator of natural origin. On the other hand, black granular inclusions or feathers are not necessarily indicative of natural origin.
While you've got your microscope handy, pull out your polarizing filters and check for the presence and appearance of any 'strain' or anomalous double refraction (ADR). Virtually all natural and some synthetic diamonds indicate ADR to a certain extent when examined between crossed polarizers. It is a very good idea to become familiar with the patterns found in known natural diamonds, since these can be a strong indicator of origin. Technically, they're actually an indicator of the forces at work when the diamond formed and can also be useful in determining the diamond type. A contributor to this magazine, Branko Deljanin, along with Dusan Simic, has developed a half-day class on using crossed polarizing filters to identify diamond types and synthetic diamonds. This is the sort of educational offering that is essential to help us hone the skills we're going to need to remain a viable part of the industry.
Still using the microscope, another important growth characteristic to check when examining fancy-coloured diamonds is the grain pattern and the colour zoning. HPHT synthetic diamonds can sometimes show very specific boxy grain patterns and distinctive colour zoning. The use of a light-diffusing filter can sometimes make these subtle features easier to see.