Ultraviolet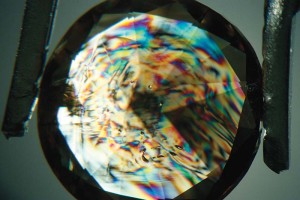 One of the distinguishing characteristics of many synthetic diamonds is that when fluorescence is present, it will be stronger under shortwave UV. The odd greenish or orangey to orangey-red fluorescence might also raise an eyebrow, since those hue ranges are very rarely seen in natural diamonds. Conversely, pure blue fluorescence is relatively unusual for synthetic stones. Most CVD synthetic diamonds are Type IIa and, therefore, transparent to shortwave ultraviolet light. It would be relatively easy to check this, since we should already be testing any high-colour, high-clarity diamond that may have been HPHT treated for this property.
Spectroscope
If one is skilled and practiced enough to confidently and consistently locate the Cape absorption line at 415 nm, then it's good to know its presence proves a diamond's natural origin. On the other hand, colourless/near-colourless CVD diamonds typically have no visible absorption spectrum.
Magnet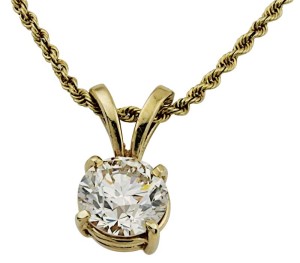 Very strong rare-earth magnets can be handy sometimes. In the case of HPHT synthetic diamonds, the presence of metallic inclusions may cause the diamond to be attracted to the magnet. Mounted stones can sometimes be 'floated' in a bowl of water using a piece of Styrofoam to help negate the effect of the jewellery's mass. Be aware that some platinum alloys are also magnetic, so if the ring jumps onto the magnet, it's probably not the diamond that's reacting! As a side note, the magnet can also help identify some members of the garnet family.
Brave new world
We live in a time when the unscrupulous salt parcels of melee with synthetics and the longstanding traditions of honesty and trust within the diamond supply chain are breaking down as globalization becomes the norm. Consumer access to worldwide markets via the Internet and the relentless pursuit of bargain prices means many of us will be confronted with questions we may not be able to answer.
It's important for those of us on the frontline to recognize when we've reached the limits of our equipment and abilities. As with life in general, gemmology and valuation involve a certain degree of uncertainty that we are forced to accept as simply part of the process. My advice, as always, is to disclose our limitations and provide our client advanced testing options to eliminate the guesswork. In the meantime, we should all do everything in our power to stay abreast of current developments in this rapidly changing industry.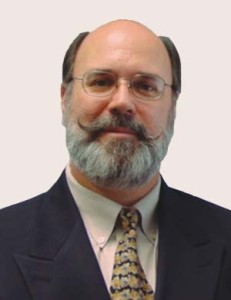 Mark T. Cartwright, ISA CAPP, ICGA, CSM-NAJA, GG (GIA) is president of The Gem Lab, I.C.G.A., an independent American Gem Society (AGS)-accredited gem laboratory. He has been a jewellery designer, goldsmith, gemmologist, and appraiser for more than a quarter century. Cartwright can be contacted via e-mail at gemlab@cox-internet.com.