Foreign cachet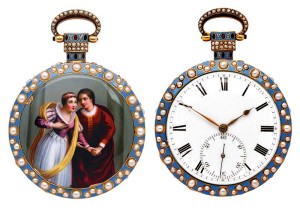 Bovet's pocket watches were designed explicitly and expressly for the export market with a focus on particularly Western motifs and details. Classical scenes, themes, and portraits—like the one illustrated on the opposite page evoking romantic star-crossed lovers reminiscent of Romeo and Juliet, medieval lords and ladies, and fairy tales—appealed to Chinese aristocrats.
The watch pictured has a circular case and depicts an attractive romantic couple in neoclassical dress painted in polychrome enamel. The reverse has all the requisite workings of a practical timepiece of that era: Roman numerals, subsidiary dial for constant seconds, and a key-wound manual movement. It's accented all over with blue, brown, red, and white champlevé enamel details and inset with split pearls. As should be expected, it shows a bit of wear and tear from the last century with some surface scratching and loss to the enamel. More importantly, it's signed 'Bovet London 274' and the large 57-mm case is numbered 1330.
Give or take a few hundred dollars depending on the wildly fluctuating market, the 18-karat yellow gold piece weighs 141 grams and has a metal value of around $5000.
This model sold at auction in late 2012 for $65,000 to a very pleased bidder in the trade who recognized the rarity at a bargain price. Also last year, a model decorated with a mandarin duck originally purchased in 1835 sold to the current owner of the House of Bovet for a rarified 363,000 CHF ($400,000 Cdn), returning from whence it came after 177 years.
Bovet's current line includes made-to-order watches for clients interested in spending something in the range of a million dollars for a one-of-a-kind piece. More down-to-earth selections are priced for mere mortals, and with their accuracy-promoting tourbillon anti-gravity mechanisms, especially the skeletonized models, these styles are well respected in the industry and by purchasers. One distinctive wristwatch is designed in collaboration with Pininfarina of Ferrari fame; the Cambiano, as it's called, is a contemporary riff on a classic pocket watch design. Its case is detachable from the wrist strap and converts to a pocket watch or a mini version of a desk clock.
Artistic merit has long been prized by the company and is apparent in the painted portraits on mother-of-pearl dials from the current Fleurier series, while the notion of exotic has done a 180 degree turn from Western themes to Far Eastern. Chinese and Japanese motifs like koi and pandas, to ladies from Shanghai and partially clad geishas, are rendered in bright polychrome enamels to appeal to a very broad base of collectors who appreciate the charms of cuteness and erotica.
Modern phenomenon
Of course, spectacle isn't confined to the 1800s. In our very own 21st century, the word 'unique' often gets overused and misused, but in this case, it's actually an accurate description.
Hublot, famous for its porthole-shaped cases and rubber straps, is a relative newcomer to the watch scene, having been around only since 1980. The company's been flying under the radar of all but the most judicious collectors, but not anymore since it announced last year the creation of what may be the blingiest watch design in recent history. At an astronomical price of $5 million dollars, the dial, bezel, and strap are completely encrusted with what a press release states as the following facts: the watch consists of 140 carats of diamonds, numbering 1282 in total; six of the largest are square emerald cuts, weighing more than three carats each; mainly Top Wesselton (G) colour, VVS clarity; 100 carats of baguette-cut diamonds; and the crown itself weighs in at 1.06 carats. That's an impressive feat of counting skill, if nothing else, and the watch took more than a year from concept to finish.
Pop culture phenoms Jay-Z and Beyoncé are the proud owners of this 'Big Bang' model, but maybe they should change the name to 'Big Bling.' It was a birthday present from her to him and it certainly makes lurching into middle age a touch more bearable. And all this time, parents have been encouraging their kids to go into medicine or law!
Maybe 200 years from now, timepiece connoisseurs will look upon Hublot's well-publicized diamond excesses as an example of the exotic local market, and the esteemed but lesser-known enamel marvel from Bovet will be quietly marking its 400th anniversary—unique curiosities, existing to be enjoyed. What constitutes worthiness, like beauty, really is in the eye of the beholder.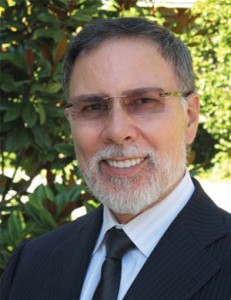 Ron Dupuis is a gemmologist and graduate jeweller with 32 years' experience in the international auction market. He is president and CEO of Toronto-based Dupuis Fine Jewellery Auctioneers and can be reached at ron@dupuis.ca.