By Kate Hubley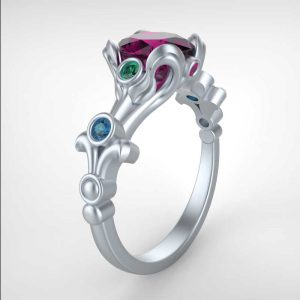 Barely a year into my jewellery-making classes, friends started to ask me to make their wedding rings. I had no idea how to design for stones, except for a typical chalcedony cab. Yet, I would always agree and spend the next three months in the throes of panic, completely out of my depth. I would head to the bench and make the same wonky ring five times. Invariably, I'd end up at the door of my first wax teacher, Paulo Vena, with a sheepish, anguished grimace on my face as I looked up at the security camera in Montreal's Cathcart building, praying he would buzz me in. Being the kind soul he is, he'd always help me with whatever problem I'd have, be it a thin shank or crooked prong, and save the day.
Of course, I still drop by to see Paulo today, but it's more for the fancy espresso and peppy conversations about our families and pets—it's safe to say I've figured a few things out while at the bench over the years, especially when it comes to bridal design.
Bridal design is a ménage à trois
I love the idea of designing and creating wedding rings. Bridal is in a category unto itself, where the bride or groom always comes first. The experience is incredibly meaningful for all three of us—for the happy couple celebrating their love, and for me, someone they've invited to be part of the milestone. In most cases, he comes to me—the co-conspirator—to create the ultimate surprise for her.
Undertaking the tremendous responsibility of getting a ring just right, nay, absolutely perfect, can prove quite the challenge. The engagement ring is probably the most scrutinized piece of jewellery a person can own. It is a piece he or she wears every day and rarely takes off, and symbolizes a treasured gift of love and commitment. More importantly, the engagement ring is also a piece to show off and have others gush over. Thus, the pressure is on.