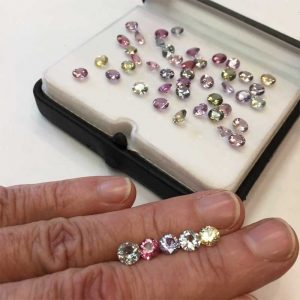 Creating a love connection with clients
When a couple comes to me, they tend to correspond with one of three archetypes. Being able to understand who they are and their design goals help me decide if I am the right match for them.
The lovely jewel: This couple has a reasonable but not open-ended budget. They are in love with the idea of having a unique ring created for them and are over the moon with the royal treatment provided. They don't necessarily know you, but you've created a relationship of trust with them. You often have to put in extra design time—I usually offer three sketches as a starting point—and you feel like you have become friends by the time the rings are completed.
The rare gem: They love your esthetic and want you, and only you, to create their one-of-a-kind piece. The couple is excited about being part of the design process and are willing to pay for finer materials and more exquisite stones. They are looking for a special experience and a truly unique ring. You feel like you are friends before you even get started.
The diamond in the rough: You're contacted and asked upfront "how much?" to make a ring similar to one they saw online. They are shopping for price and are not as concerned with a custom design or client experience.
Many jewellers, integrity intact, are proud to oblige clients for whom price is the first concern. There are others who 'die a little inside' when they are not creating from a blank slate. However, if you flip your mindset and look at these scenarios as an opportunity to bring the client into your 'world,' you can add a unique design feature, making their ring a true original. A happy client experience can also lead to more sales with wedding bands and referrals. Plus, you can talk about it on your blog and social media.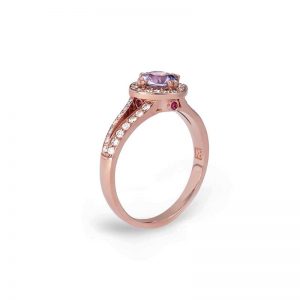 Saying "I do" to creating your own
bridal collection
The sheer bliss of designing for a happy couple is enough to make you start thinking about developing your own bridal collection. And let's be honest, it can be a lucrative segment of the jewellery industry, as couples are often willing to invest in this monumental milestone.
However, it's very competitive out there. Other designers and jewellers, local jewellery stores, chains, big box stores with jewellery and bridal counters, online retailers and sales platforms are sending a litany of messages to anyone with nuptials in their future. Finding your voice in the chatter and creating an enduring, distinctive collection, one that whispers into the hearts of soon-to-be-weds, is quite the challenge.
Avoid rushing into things
One of the key steps in the process of designing a bridal collection is to take a step back and determine your demographic.
What does your client's dream wedding look like? What kind of reception will be held: fancy hotel or country garden?  Will a cluster of meadow flowers or a sculptural bouquet be carried? What sort of attire will the client wear? Are there colours or textures to play off of such as vintage lace or crimson taffeta, silk, polyester, linen or velvet? What about the couple's budget?
When you spend time devising a clear picture of your future bride's and/or grooms desire's, you will be able to make clever decisions that marry your design esthetic with their personalities.
The best way to do this is to create a mood board representing everything about the happy couple and their big day. Pinterest is a great way to do this!
When I went through this exercise, it became very clear that I design for the free-spirited bride and groom. Whether they are millennials or tying the knot for a second time, my clients tend to unapologetically love what they love and choose style over fashion trends. This profile, combined with the fact I am a gemmologist, led me to my Vive Bridal collection, which I like to say is a "colourful twist on the traditional engagement ring," as it features coloured gemstones.