By Duncan Parker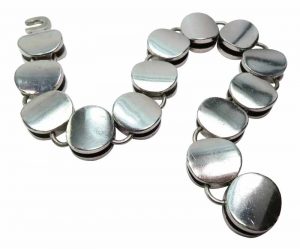 All that furniture we moved into the basement, shipped out to the cottage, or dropped at the curb, hoping someone would take it away. The dull-looking teak wood, sticky with aging varnish and with too many children's mucky hands. Much mid-century furniture was uncomfortable and awful, and yet we wish we had it today, because it would be perfect in the small spaces of our compact lives.
Also, no matter how much we reject the label, it would prove we were proper hipsters. The cracking tensioned leather or shaped plywood seats, the stainless steel supports—it all made for a distinctive style and visual impact on a space. The predominantly silver jewels of the same mid-century period had a similarly strong, positive impact on the style of wearers at the time.
Back to basics
Perhaps we'd love to have all that mid-century modern stuff because it really is cool. Those simple, organic forms are made from basic materials without a lot of superfluous ornamentation. The designs are notably rudimentary and practical, but despite this—or perhaps because of it—they have an understated beauty unlike anything before or since.
In jewellery at this time, there were uncomplicated but effective shapes and finishes. There was also widespread recognition of artists, designers, and creators. Historically, there haven't been many times when the artist who designed a decorative household or personal item was recognized or even identified at all (although the company or house sometimes was). In the mid-century period of Northern Europe, perhaps there was a more egalitarian view of the world, as there tended to be a greater awareness of the designers behind many of the jewels.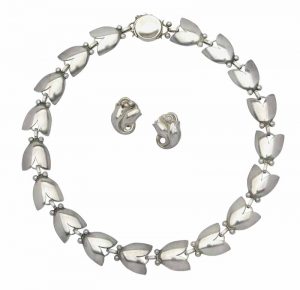 These designers—like those creating furniture or candlesticks—focused on minimal, beautiful, and practical form and materials. Ostentation was not part of the design. In jewellery, the mid-century revolution was led by Danish designers, but accompanied by artists from Norway and Finland and followed by designers around the world.
These jewels were straightforward in form and shape, and generally had basic and uncomplicated textures. This design style had no time for anything unnecessary. Scrolls and flourishes were for another time and place. The purpose of the artists was to make something simple, attractive, and in no way boastful.