What to consider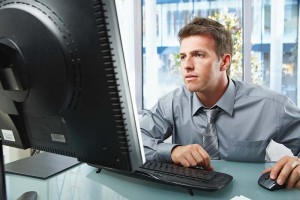 There are two ways to approach an online training system for your business. The first option is to hire a third-party vendor to develop educational materials and content for your online system. The second option is the 'do-it-yourself' approach, where you create your own educational materials, quizzes, and content. This one is most cost-effective, especially for small- to medium-size businesses.
Next, you'll want to shop around for an LMS that is suited to your needs. Many popular systems, such as Skyprep and Mindflash, offer free 30-day functional trials, allowing you to experiment with logistics, as well as ensure it is user-friendly and meets your requirements. It is important the system you choose supports the document types you will be working with. For instance, if your educational materials include PowerPoint presentations, images, or videos, you should be certain the system can support these formats. Determining whether you can incorporate branding elements or if the training can be accessed by an app or iPad are also important considerations.
Often, fees are based on the number of people who will be using the system. Some allow for unlimited users, while less expensive options may cap the number permitted. The most basic online training systems can be purchased for as little as $50 per month. That fee increases with the number of users required and can run upward of several thousand dollars per month. In the middle of the spectrum, you can find systems for around $100 per month for 100 users. Be sure to look for one that does not require a contract. The size of your company and number of employees or partners using the tool dictates which option is right for your business.
Another important consideration is whether the training system is hosted on the cloud or is software you download. Keep in mind, software requires technical support and updates that a system hosted on the cloud does not.
Finally, you will want to ensure performance metrics are included. This allows you to track employee progress, ensuring compliance and understanding, as well as enabling you to measure the effectiveness of different approaches, such as split-testing sales techniques on your showroom floor.
The days of mammoth HR manuals and full-day training sessions are long gone. An online educational system is a targeted approach to training employees and partners, sharing information that is geared to specific skill levels and allowing business owners to track progress and compliance of the material. Whether staff is learning about workplace safety measures or marketing techniques, these systems can cultivate a deeper knowledge of your company's products and practices, which can translate into greater customer trust and increased sales on the showroom floor.
Jeffrey Ross and Patti Moloney are a husband-and-wife duo that has used innovative thinking and technology to develop and expand their line of Dimples charms across Canada. They are also owners of Jeffrey Ross Jewellery, a retail store in Uxbridge, Ont.