By Dax Dasilva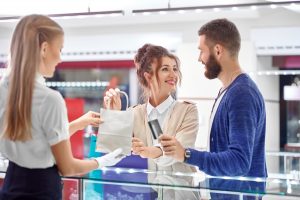 As we begin a new year, I am often asked what the largest trends will be for retailers and what they should focus on in the year ahead. The industry is constantly evolving, and the best of modern retailers adapt quickly to the changes in the space. Right now, that means omnichannel.
Omnichannel is the seamless integration of in-store point of sale (POS), e-commerce, and mobile channels to ensure customers have the same high-functioning, high-quality experience across all platforms through which they can access your store.
For jewellery retailers looking to expand from a local presence to a global one and connect with their customers using multiple mediums, this is paramount. There are many reasons jewellery retailers need to be thinking omnichannel now.
Multiple touchpoints
Modern customers expect to be met with a unified experience wherever they are shopping. A seamless omnichannel approach means your clients have the same touchpoints in-store as they do online.
A recent Harvard Business Review study analyzing the shopping behaviour of more than 46,000 customers at a major U.S company showed 73 per cent of those assessed used multiple channels during their shopping journeys. Customers may preview jewellery online before heading to brick-and-mortar locations to try it on, or try on in-store with an associate and make a purchase from a mobile phone later in the week.
Jewellery retailers employing e-commerce can lose the touch-and-feel experience associated with being in-store, so how can they capitalize on the tools they do have available online? It is important to offer services such as digital try-ons and virtual ring sizes, as well as showing a series of options (from silver to yellow gold to rose gold) so shoppers feel they are in control of browsing and can efficiently and easily find an option for themselves or for a gift.
The same options available in-store should be shown online and vice versa, with real-time inventory data to support the experience. Customers can touch the brand through a brick-and-mortar visit, then again on a different date when browsing online, and again on mobile after engaging with it on social media.
Powerful inventory management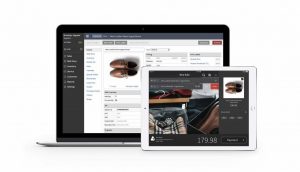 More than most, jewellery retailers have a high volume of SKUs, with customization options for number of pieces, special orders, personalized engraving, and more. With a powerful inventory management system in place, retailers with high product rosters have the ability to see trends, know the valuation of stock, and understand what's selling and what's on shelves/in displays, ultimately bringing efficiencies to the ordering process.
An in-depth understanding of inventory also helps business owners to be more efficient in their planning—for example, by knowing what and when to order for the holiday season. The right inventory system will also help retain information about previous client purchases and help sales associates suggest new items based on past interest.
Using a unified cloud-based omnichannel system means inventory is centrally located, automatically updating between e-commerce sales and in-store POS without delay. This way, retailers don't lose time syncing up data and shoppers can browse in real time for what is currently in stock.
Creating an experience
High-quality products require exceptional service. Selling jewellery is often less about the product and more about style or the moment. Retailers who will get ahead in 2018 understand the in-store and online experiences count just as much as the quality of the product.
We know nearly 76 per cent of shoppers who search for a business via their smartphones visit the store within 24 hours, according to a study from Google. Having a mobile presence opens the opportunity to drive traffic into your store. On the same note, an omnichannel solution gives your customers a borderless shopping experience, opening the door for international shoppers to have the same brand experience through mobile or e-commerce as they would at your brick-and-mortar location.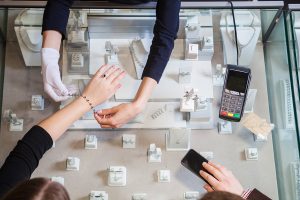 For jewellery retailers, an omnichannel platform could help support the customization and personalization element of jewellery pieces. It also offers up-to-the-minute insights into what's in stock and what can be ordered, along with a real-time view into wait times for repairs. Creating an experience custom to each person also builds the credibility of the retailer, and the interaction is more likely to turn into a repeat visit or transaction.
Valuable customer data
Customer service should be a top consideration for jewellery businesses looking to excel in 2018, as it is the foundation to building strong relationships that will keep clients loyal and engaged with the brand. Part of building a relationship is ensuring your customers feel they are known and valued, and that each experience is tailored to their needs.
An omnichannel approach aids in the upkeep of customer profiles with a seamless link from in-store experiences to online purchases. This helps business owners engage with their clients on an ongoing basis, sharing details, product news, and events valuable to each specific person.
In an ever-changing retail landscape, it is important for businesses to keep a finger on the pulse of upcoming retail trends and changes. Although 2017 brought the renaissance of brick and mortar, modern retailers can keep ahead in 2018 by embracing an omnichannel approach.
Dax Dasilva is founder and CEO of Lightspeed, a Montréal-based company providing powerful cloud-based point of sale (POS) solutions for independent businesses. He is prominent in the retail tech industry and a pioneer in cloud-based technology that enables businesses to sell anywhere, anytime. For more on the company, visit www.lightspeedhq.com.