Taking something good and making it better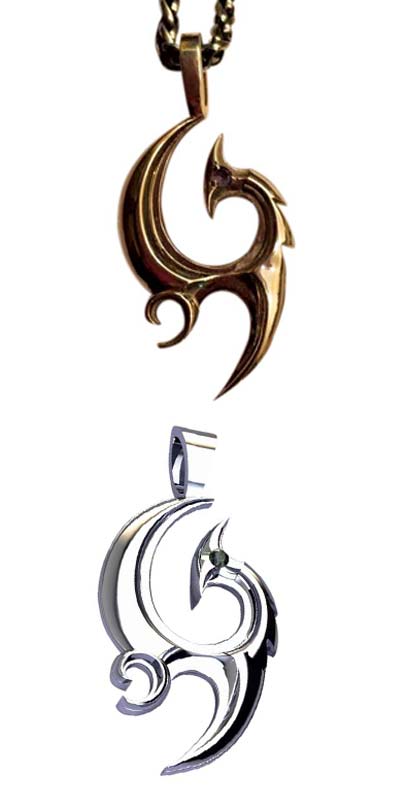 Hannah Pazderka of Art of Gems in Edmonton had an interesting assignment a few months back. Her client had been living in Hawaii for about a year and purchased a pendant for her husband. He loved it so much, he wore it every day. The piece is a Hawaiian symbol that holds a lot of meaning for him. However, it had several issues. First, the material was some kind of alloy that tarnished and irritated his skin. Second, the scale of the pendant was too small for his 6-ft, 2-in. frame. Third, it was flat on the back, revealing an unattractive underside when it flipped over. And finally, since the pendant was mass-produced, it lacked a one-of-a-kind element. During her consultation with Hannah, the client decided she wanted to include her husband's birthstone on both sides.
To make the design more interesting, Hannah gave the piece more height and dimension, which you can see in yellow in the rendering. She also chose a 'knife-edge' profile to create the surfaces. When you look at the final design, a warrior's spear comes to mind. I think Hannah did a great job maintaining the original pendant's theme and addressing her client's design requests.
If you have been following my articles in Jewellery Business since 2012, you must know by now that I think CAD can offer a retailer a clear advantage. Change is scary—we resist it. I know I am usually very dramatic about anything being different. Yet, looking back at the changes I've experienced (and probably resisted at the time), I can say things worked out for the best and I'm confident you could say the same, too.
Shele Letwin is president of GV Design Canada, the authorized Canadian distributor of Gemvision and Envision Tec products. She is a graduate of the jewellery arts program at George Brown College, an award-winning designer, and CAD/CAM instructor. Letwin is often a guest speaker at trade shows and at the Gemvision Design Symposium. For more on CAD, see GV Design on YouTube at 'gvdesigncanada "" future jeweler' or follow the company on Facebook or Twitter @GVDesigncanada. Letwin can be reached at shele@gvdesigncanada.com or (866) 299-1702.