It's a good thing, right?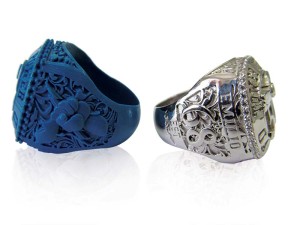 To date, CAD/CAM technology in the jewellery industry has primarily changed the way business is conducted at the wholesale level, with a few exceptions I will get to shortly. At the wholesale end, the technology has ushered in phenomenal growth in the variety of product categories consumers can now view and purchase. This has also allowed jewellery brands to quickly design entire digital collections and test them online for consumer feedback in the hope of determining which pieces are worth developing into live inventory. CAD/CAM technology has also allowed growth in custom jewellery manufacturing by offering consumers complete freedom to create an exclusive piece to their exact specifications.
Recently, we've seen the emergence of online entities like Shapeways, a direct-to-retail CAD/CAM service for items, such as belts and buckles, model trains, and jewellery. It combines the strength of the growing number of CAD designers worldwide and state-of-the-art CAM technologies. Designers set the retail price for the item and Shapeways adds the manufacturing cost to make the piece in materials ranging from plastic to karat gold. The combination of CAD and CAM technologies and the ability to easily produce items brings to the consumer a service that didn't exist five years ago. If you haven't had the opportunity to browse this website, I would suggest a visit might be a good exercise to witness where CAD/CAM is heading (www.shapeways.com).
Shapeways has re-invented the jewellery category with a wide range of design inspirations and the materials used to build them. Though the site is not yet in direct competition with today's traditional brick-and-mortar—or even online stores for that matter—I am sure consumer interest will grow and possibly cut in to already thin margins.
A variation on this service is that of websites selling jewellery CAD files, which can be printed on just about any jewellery-specific 3D printer or through one of the many print service bureaus popping up in Canada. In essence, the availability of CAD software and affordable 3D printers marketed to consumers, as well as the ability to circumvent the retailer and go direct to suppliers to source materials, cast, and finish a piece, may have some asking whether the jewellery retailer may one day become obsolete.