By Diana Jarrett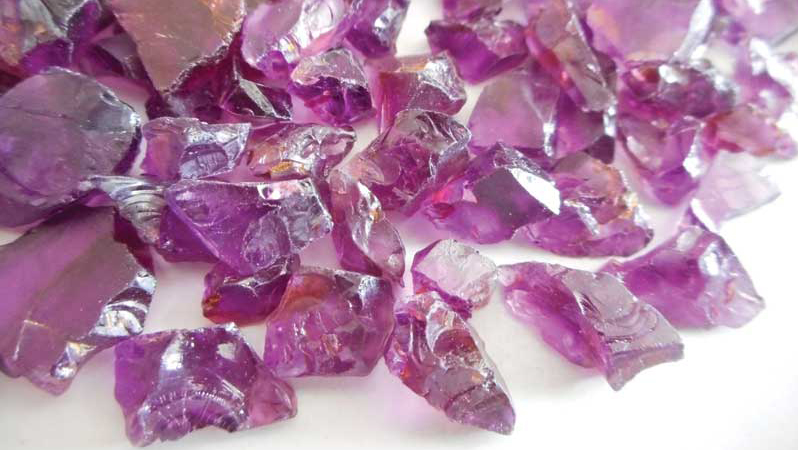 The world's most desirable gemstones are often linked to their places of origin. Sometimes this is because there is something unique about the geology where the stones were produced, or, in other cases, there is simply no other place on Earth able to create the colours and distinctive traits that make single-source gemstones so rare.
Consider the word 'Kashmir,' for instance. For collectors, this is all they need to hear to conjure visions of velvety cornflower-blue sapphires that make connoisseurs swoon.
Likewise, when combined, the words 'Golconda' and 'diamond' are a match made in gemstone heaven. Large colourless crystals from mines in Golconda, India, were spectacular for their high clarity, thanks to a lack of nitrogen.
Burmese ruby, anyone? These scarlet pebbles are lauded for their pigeon blood red hue, which winks a bit of purple back-colour from a facet or two. Intensely saturated, these corundum specimens remain the archetype for the 'best-of-the-best' ruby, even though very few come from Burmese (Myanmar) mines today.
Finally, of course, when one says 'Argyle,' how quickly do images of rosy-pink and red diamonds come to mind?
New stone on the market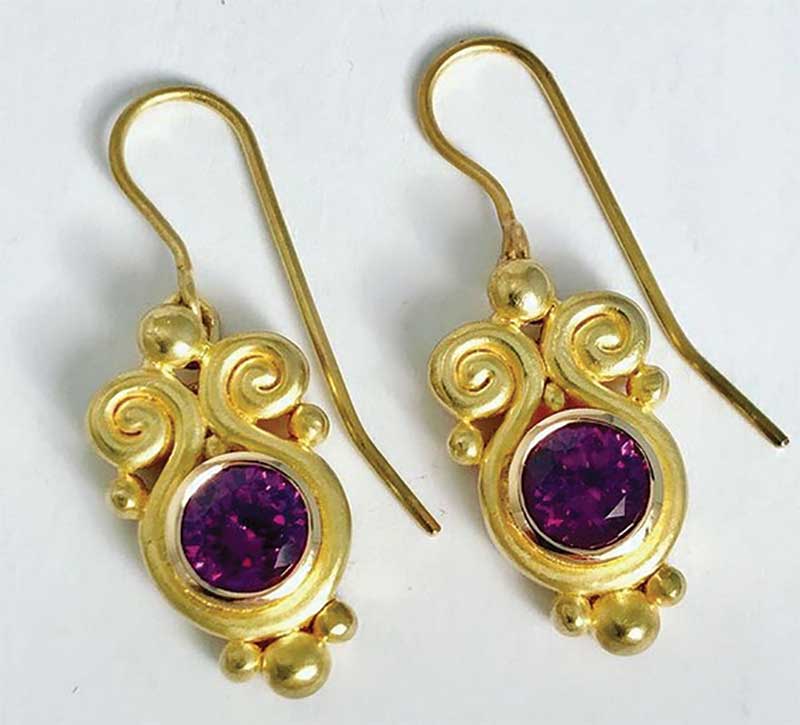 We are fortunate to now have one more extraordinary gemstone to add to this already-stellar line up. It is a rare purple hybrid garnet with roots in East Africa. The finest material hails from Mozambique.
"These are, indeed, a hybrid between pure pyrope, pure almandine, and pure spessartine garnet," says respected field gemmologist, Vincent Pardieu.
A bonus for lovers of these garnets is some specimens have a colour shift ability. Pardieu notes these purple stones may transition from grape to cranberry or magenta under different light sources.
Fans at Tucson
According to Bangkok-based gemstone importer/exporter, AJS Gems, the rare purple-hued Mozambican garnets were the darling of the 2022 Tucson gem shows. AJS was one of the dealers offering this stunning garnet variety, but, with its rarity, it didn't have many available.
"What's special about these garnets is the wonderful colour—an intense purple with red flashes we call 'royal purple,'" says AJS owner, Arnold Silverberg. "The Mozambique material in particular has a bright open colour with wonderful brilliance."
Raja Shah, owner of Color First in Tampa, Fla., reflects on the growing demand for these uncommon gems. Soon after their initial discovery in Catandica, Mozambique, in 2015, he introduced the stones at Tucson in 2016.
"Customers were surprised by how vivid a purple these garnets were, and distinct from regular rhodolite," Shah says. "Many customers responded positively and started using these as single stones, matched pairs, and accent stones."
Like many intensely saturated garnets, "the smaller material exhibits more open colour and shows the purple better," he says. Understandably, with colour saturation this intense, stones larger than four carats may appear quite deep-toned.
In Shah's case, there was not much of a learning curve for his customers, which made the purple garnet's desirability a sure thing.
"We've been carrying garnets in its entire colour range for 28 years now," he says. "So, most of our customers are familiar with the amazing variety of colours they come in. They were pleasantly surprised by this new find and interested in working with it. We educate them on its rarity—only three per cent of the original production was facet grade with vivid purple colours."
Cutter's darling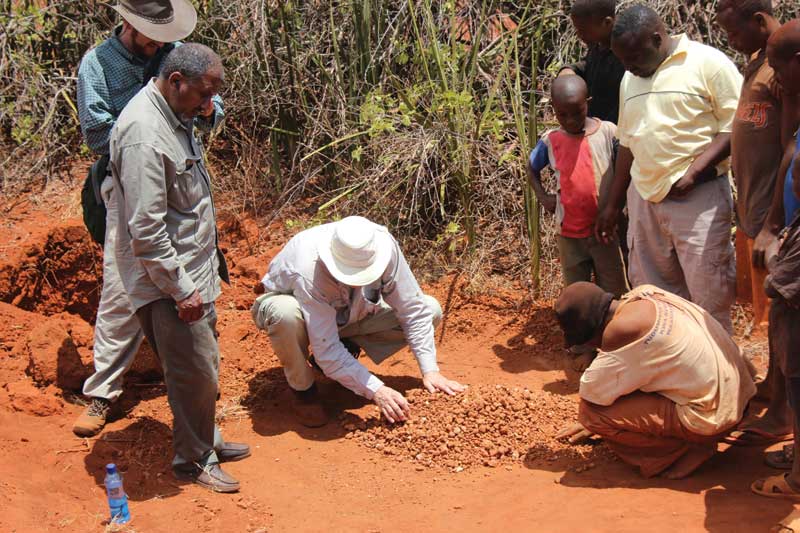 Acclaimed Vancouver-based custom gemstone cutter, Lisa Elser, has travelled the world hunting down extraordinary gems at their source.
"I started seeing Mozambique garnets in Arusha, Tanzania," she says. "They had less silk than many of the Tanzania garnets, and the colours were fantastic."
Having cut both the purple and pink-peach colour-shift garnets from Mozambique, Elser was quite familiar with the rough.
"These garnets can have some silk, but I think the clarity is distinctive," she says. "Like any rough, you can expect to lose more than you retain. Most of the garnets I've gotten from Mozambique have been nodular, which makes for better return on the rough. It's usually 30 to 35 per cent."
While these luscious gems have steadily gained momentum with cutters, designers, and retailers, their soft launch in the marketplace a few years ago was aided by a thorough explanation of their variety. In 2016, Gems & Gemology published a report titled, "Purple Pyrope Almandine Garnet from Mozambique," co-authored by Pardieu, Supharart Sangsawong, and Victoria Raynaud.
Carefully describing its characteristics, the article also sheds light on the stone's lack of availability:
"Mark Saul of Swala Gem Traders (Arusha, Tanzania) informed him that the source was a very unstable area of Manica Province in central Mozambique. Ameen Ikram, a gem merchant from Sri Lanka, confirmed this after managing to visit the mining site in June 2016. The deposit is located about 60 km northeast of Chimoio, near Gorongosa National Park. The area is under the control of the Mozambican National Resistance (RENAMO), an armed rebel group."
Gemstone dealer and cutter Roger Dery knows a few things about stones coming out of East Africa. In the summer of 2021, he celebrated his 40th trip to the region.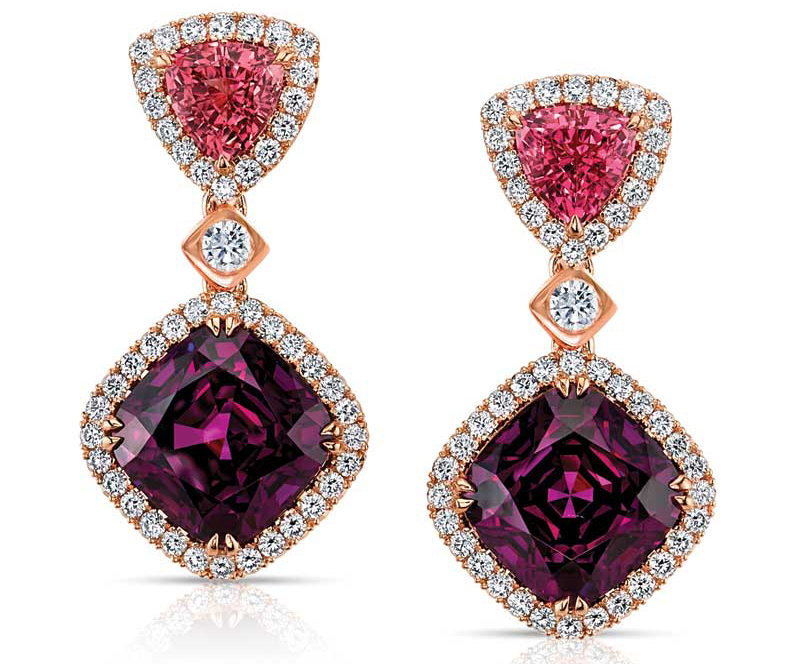 "In our opinion, for the time being, foreigners taking buying trips into conflict areas like northern Mozambique or southern Ethiopia may not be making a wise decision," he says. "The risk far outweighs any potential gains."
"Mozambique purple or colour-shift garnet has been seen in several East African gem markets," Dery continues. "Though, as of our last buying trip, we did not find rough we couldn't live without."
His theory is collectors who love the gemstone should grab it when they find it.
"Political unrest or upheaval can happen in short notice in many under-developed gem producing countries," Dery says. "Supplies of highly desirable gems will only become shorter in availability."
Further, in light of volatilities in these regions, he urges buyers to press ahead and purchase stones they love when they see them.
"Don't wait for what we don't know," he cautions.
Regional distress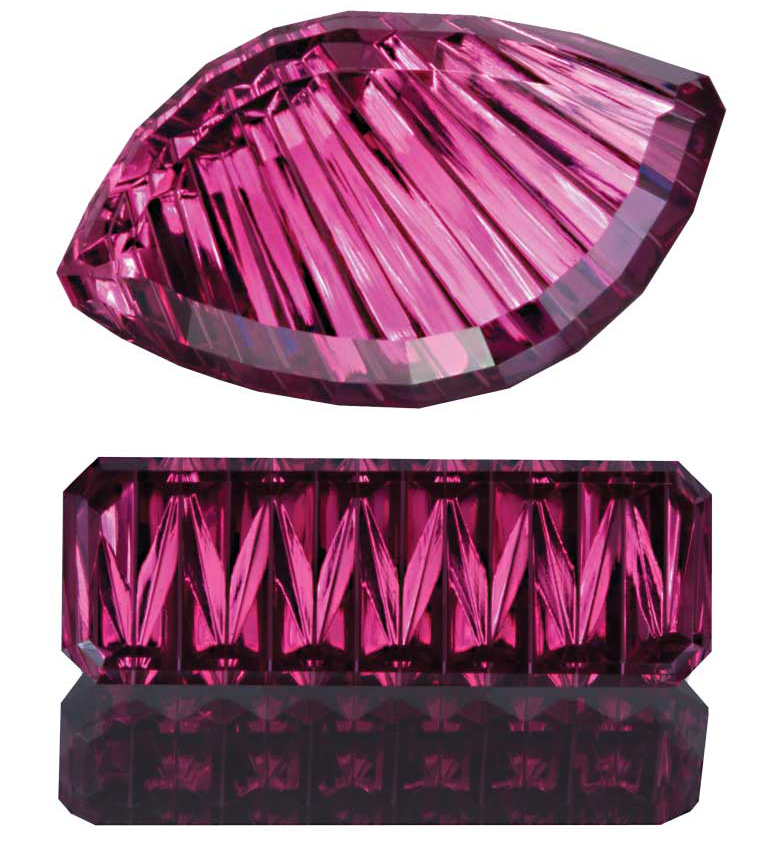 When the material first came out of western Mozambique in late 2015, the region wasn't experiencing unrest, Shah says.
"Since it was an alluvial deposit with three known mining areas in the same region, most of the material was worked out of the ground in the first three to 18 months," he says, adding this was expected.
"This type of production cycle is typical for many alluvial deposits found in East Africa," Shah goes on to say. "Production of purple garnet declined significantly after that, and the political unrest that, unfortunately, followed in that area may have hindered further prospecting and trading, too. We're glad they found this variety before the unrest."
Niveet Nagpal, president and lead designer at Omi Privé, explains what drew him to this unique stone.
"These rare Mozambican garnets have a deep rich hue, which is not seen in garnet very often," he says, adding, more specifically, the gems should display a "rich purple with flashes of red or pink—not overly dark." 
Finding reliable supplies and availability of top-grade goods, however, continues to be an ongoing pursuit.
"It is very difficult to source nice ones," Nagpal says. "We acquired a very nice parcel a few years ago, but since then there have been only a few or even one at a time that meet our quality standards."
Even when buyers do find this garnet in the marketplace, Nagpal says there are limitations to sourcing fine goods in significant sizes.
"Anything larger than five carats is scarce today," he says. "We have seen a few larger ones, 10 to 20 carats and up, but, in general, most of what is available on the market is smaller than three carats."
What's in a name?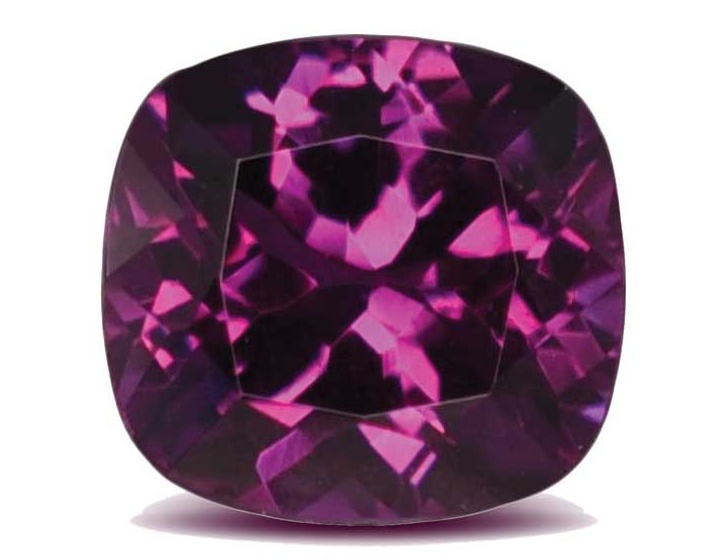 Celebrated gemstone cutter, John Dyer, is familiar with this particular garnet, as well as its country of origin.
"It happens that Mozambique has a diverse geology and not all garnets coming from there look the same," he says. "Such are the perils of using a country name as a descriptor for a gem variety."
The purple stones have proven to be very popular with Dyer's customers, with the gemstones listed on his website selling out soon after being posted.
"They are more expensive than standard red garnets, but the deep rich purple is an unusual shade for garnet and people are willing to pay the higher price relative to the more common red variety," he says.
With supplies this unpredictable, though, why do the stones keep earning high marks amongst buyers? According to Florida-based graduate gemmologist-jeweller, Michael Jakubowski, prices can be off-putting to some buyers until they learn more about the gems.
"Some customers may be somewhat hesitant since most garnets are thought of as inexpensive," he says, "but, once customers realize these stones are scarce, they are more accepting of the higher prices."
Pretty please
Stones can be as rare as hen's teeth, but, unless the end user finds them beautiful, they won't move—especially when consumers have a different gemstone 'short list' altogether. Fortunately, these garnets deliver beauty, which is the main attraction for shoppers.
"Rare gemstones are more of a curiosity than something that my clients seek out," says Vancouver-based goldsmith, Kristen Jones, owner of Queen Bijoux. "They will ask about something they see in my showcase and don't recognize and will enjoy hearing me tell them about the stone."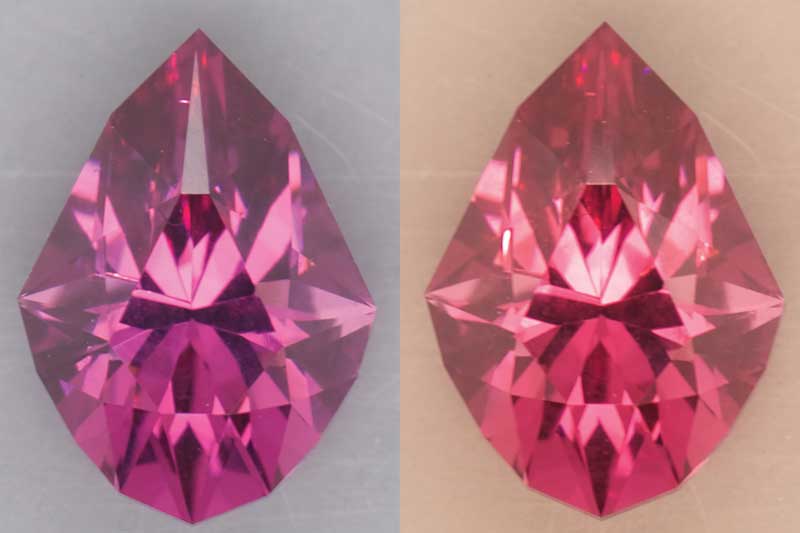 For her customers, it's more of a love match when deciding on which item to buy.
"They will only buy if they have already fallen in love with the piece of jewellery and like the colour of the gemstones," Jones says, adding her clients lack confidence "to buy something they have never heard of before." So, for her clientele, beauty trumps rarity every time.
Elser says a gemstone's attractiveness holds another lure for collectors.
"People who have January birthdays and don't like traditional red garnets—and that's an awful lot of people—can fall in love with these garnet colours."
Story time
Nothing sells a coloured stone like a good story, and Mozambique purple garnets have plenty going for them.
"For retailers, my advice is to focus on the basic tenets of why consumers love coloured gemstones," Dery says. "Focus on their beauty, rarity, and durability, and, from there, share the stories you know that support the gems you are showing your clients."
Don't forget to also mention the people at the source, he adds. After all, they are an instrumental part of a gemstone's narrative.
"Humans love stories about other humans, and we wouldn't have gems without the miners!" Dery says.
Education also plays a key role when selling these stones, Shah adds.
"Dazzle your customers with all the colours garnets are found in," he says, "then tell them about this small discovery in Mozambique that's played out as far as we know, and the opportunity to own a beautiful and affordable purple gemstone that is completely natural and untreated."
Nagpal believes this garnet variety's trifecta of selling points makes it the ideal stone to collect.
"The purple is richer [than normal rhodolite] and can shift colour from a royal purple to shades closer to magenta in hue," he says. "And, with the mining area being politically unstable, I am not sure if there is any more material left at the mine or if it is not currently operational or functioning."
Moreover, customers will continue to buy these purple garnets until there's no more inventory, Shah asserts.
"We have been purchasing old stock from other dealers over the years to keep our customers supplied," he says. "I wish we could get a lot more material like the original find—it would continue to sell."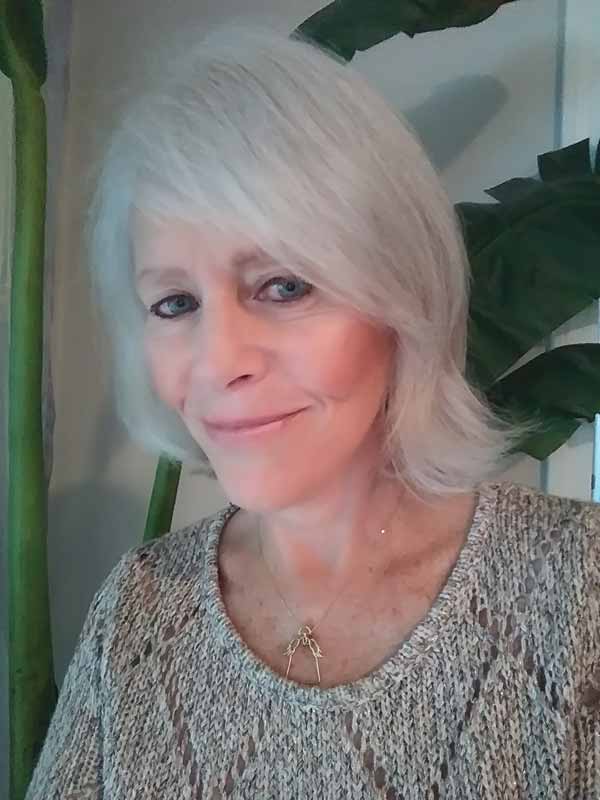 Diana Jarrett is an award-winning trade journalist and graduate gemmologist (GG). A registered master valuer, Jarrett is a popular conference and trade show lecturer. She is also the co-author of Cameos Old & New (4th Edition) and the co-creator of JewelryWebsiteDesigners.com. Jarrett can be reached via email at diana@dianajarrett.com or through www.dianajarrett.com.
Reference
1 Read "Purple Pyrope Almandine Garnet from Mozambique" online here: www.researchgate.net/publication/311259945_Purple_pyrope-almandine_garnet_from_Mozambique