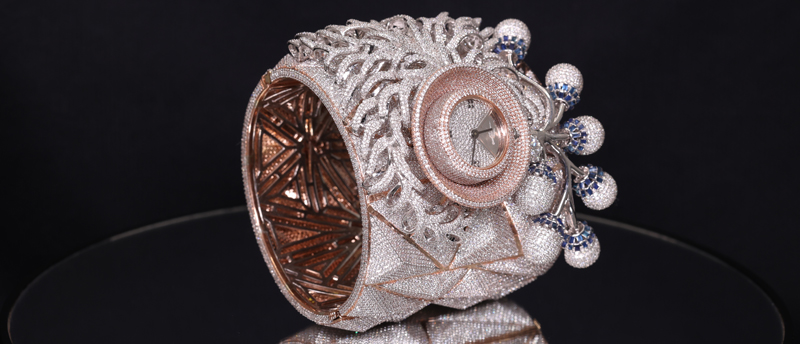 A timepiece showcasing 17,512 white diamonds and 12 black diamonds has broken a Guinness World Record.
The 14-karat gold 'Srinkia' wristwatch has nabbed the title of most diamonds set on a watch. Designed by Renani Jewels in India, inspiration for the piece is rooted in ancient Indian mythology, Guinness reports. It also signifies Lakshmi, the Indian goddess of wealth and good fortune.
"We and the whole team have worked really hard for months and this watch was created with so much passion and greatness," says Renani Jewels' founder and CEO, Harshit Banal. "One should always seek for new challenges in life."
The construction of the watch began with hand-drawn sketches. After the initial design was finalized, it was recreated in 3D as a computer-aided design (CAD) and then printed.
All the diamonds were then placed onto the watch. Five different forms of polishing were required to give the piece the desired final look.
"I look forward to new technologies that we can merge with traditional methods of jewellery making," Banal says. "I believe this technology will make the impossible, possible."
The watch has been certified by the International Gemological Institute (IGI), with every diamond tested as natural, EF colour, and VVS-VS clarity.
The previous record for most diamonds set by Aaron Shum Jewellery (Coronet) in 2018. The 'Mudan' timepiece, which features artwork by Canadian designer, Reena Ahluwalia, contains 15,858 diamonds.