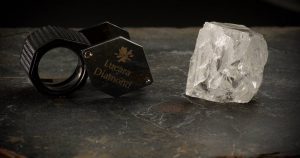 At its 12th exceptional stone tender (EST), Vancouver-based producer Lucara Diamond sold a recently discovered 327-carat diamond for US$10.1 million. The gem was found in the company's Karowe mine in Botswana in April.
Nine other diamonds were also sold at the tender, ranging from 40 to 472 carats in size. All 10 were discovered this year, and each one drew more than US$1 million, bringing Lucara's total amount of diamonds sold at that price to 168. Four of them—including the 327-carat gem—sold for amounts exceeding US$3 million.
Lucara's CEO, Eira Thomas, reports the sale attracted 29 companies, eight of which came away with lots.
"Lucara is very pleased with the outcome of EST12," she said.