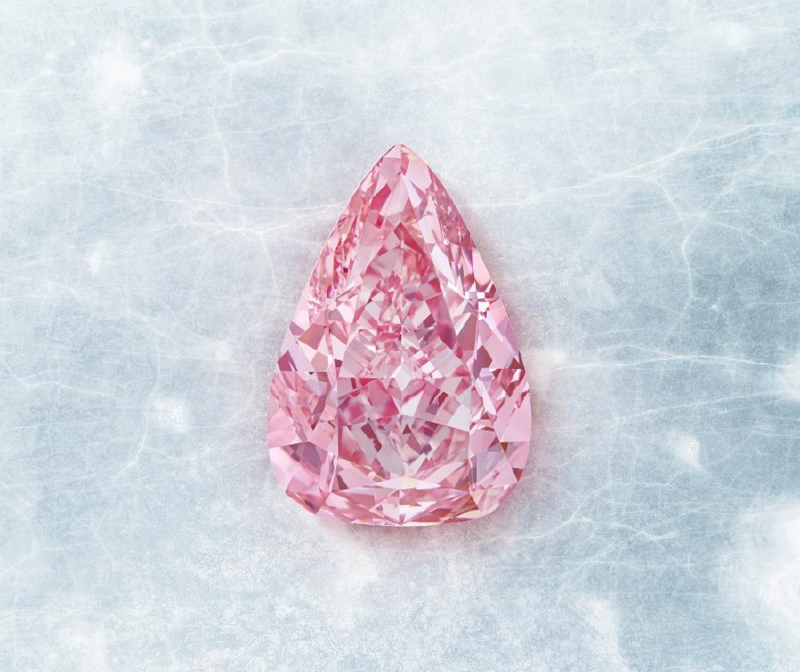 A fancy vivid pink diamond of 18.18 carats is expected to fetch up to $47.9 million (US$35 million) when it goes under the hammer at Christie's Luxury Week.
Dubbed 'The Fortune Pink,' the pear-shaped diamond, which will lead the Geneva Magnificent Jewels sale on Nov. 8, is the largest of its kind to ever to be offered for sale at auction, Christie's reports.
The diamond's 18.18-carat weight translates to 'definite prosperity' in Asia, the auction house adds.
"After The Rock, a 228-carat diamond, sold this May in Geneva, Christie's is proud to present The Fortune Pink, the largest pear-shaped fancy vivid pink diamond offered for sale at auction," says Rahul Kadakia, international head of jewellery for Christie's. "With its auspicious weight of 18.18 carats, this exceptional pink diamond of phenomenal colour will certainly bring good fortune to its new owner."
To-date the largest vivid pink diamond sold at Christie's was the 18.96-carat 'Winston Pink Legacy,' which, in 2018, achieved US$50.3 million and set a world record price per carat for a pink diamond sold at auction.
The Fortune Pink will be first presented to the public at Christie's New York the week of Oct. 3, before touring to Shanghai, Taiwan, and Singapore.
For more, click here.