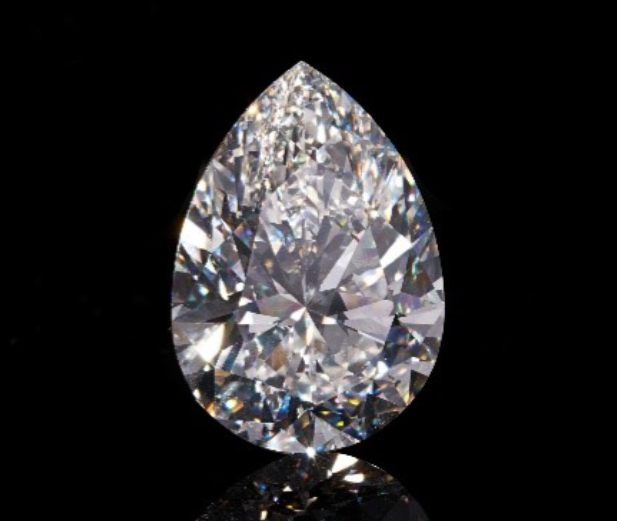 Two diamonds larger than 200 carats made waves at Christie's Magnificent Jewels sale in Geneva last week in an event that achieved more than US$69 million (Cdn$89 million).
'The Rock,' the largest white diamond to ever go under the hammer, led the auction. Weighing 228.31 carats, the stone sold for US$21,894,082 (approximately Cdn$28,259,000) against a pre-show estimate of US$20 to 30 million. The G colour, VS1 clarity diamond, which was mined and polished in South Africa more than two decades ago, was accompanied by a letter from the Gemmological Institute of America (GIA), stating it is the largest existing D-Z colour pear-shaped diamond ever graded by the laboratory.
"During a momentous week for Christie's, The Rock, achieved almost $22 million," says Rahul Kadakia, the international head of Christie's Jewellery. "Weighing 228.31 carats, The Rock is the largest white diamond ever to appear for sale at auction."
Additionally, another highlight lot of the event, the 205-carat Red Cross Diamond, realized US$14 million (Cdn$18 million), a world auction record for a fancy intense yellow diamond.
"The final lot of the auction presented another extraordinary gemstone of over 200 carats, the sensational Red Cross Diamond," Kadakia says. "It was a privilege to present this legendary stone, which was first sold at Christie's in 1918 as part of the Red Cross Appeal. Over a century since that first sale, the diamond sold after 11 minutes of competitive bidding for CHF14.1 million."
A 'significant share' of the diamond's proceeds will be donated to the International Committee of the Red Cross, Christie's adds.
"For nearly half a century, our family has had the privilege of safeguarding the Red Cross Diamond," says the stone's anonymous consigner. "Since it was first brought to market in 1918, the legacy of this symbol of humanity has always been the support of communities ravaged by war, famine, and other hardships endured by people across the world. At this moment in history, we honour the call others have made before us."
To view complete results, click here.