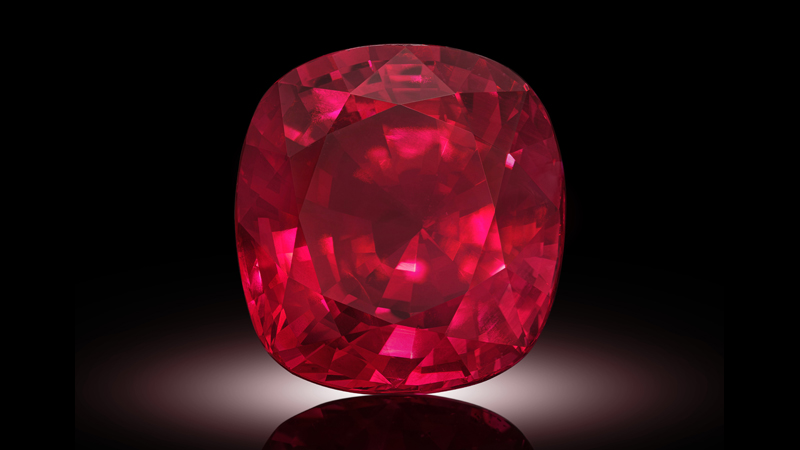 A record-breaking pigeon-red ruby is paced to fetch a pretty penny when it goes under the hammer at Sotheby's Magnificent Jewels this June.
Dubbed "Estrela de Fura" ("Star of Fura" in Portuguese), the 55.22-carat cushion-cut gem is the largest ruby ever brought to auction. The stone, which was cut from a 101-carat rough recovered in Mozambique by Toronto-based mining group, Fura Gems, carries a pre-show estimate of $40.4 million (US$30 million).
First unveiled seven months ago, the rough stone has been lauded for its vivid red hue, fluorescence, and high clarity. It is believed to be the largest gem-quality ruby on record, Fura Gems reports.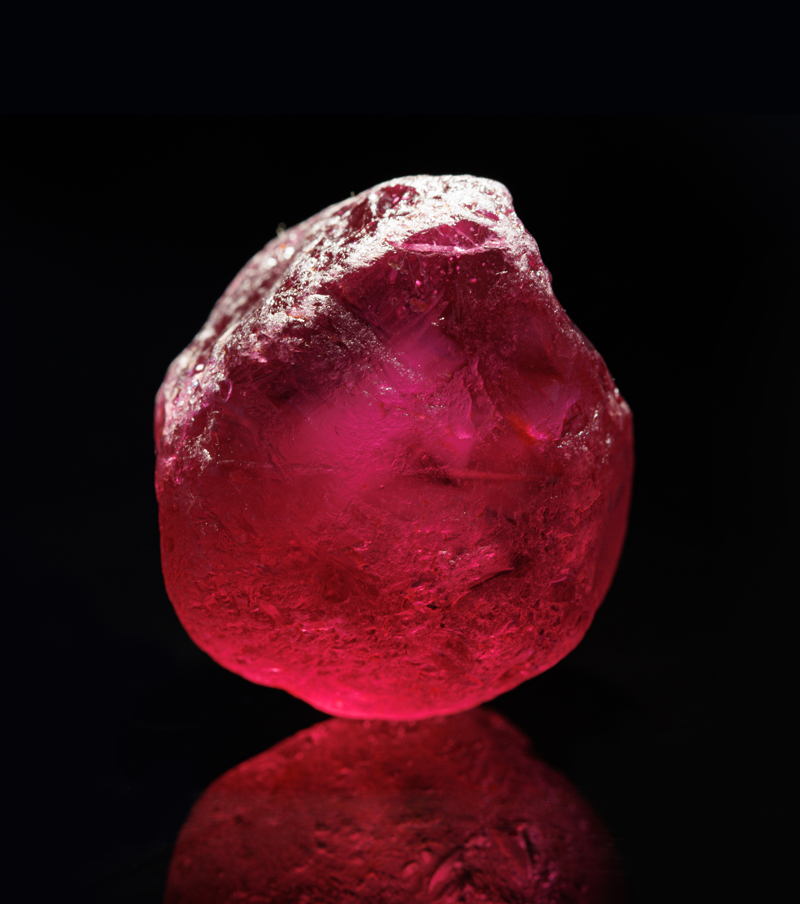 Following a series of studies of the rough crystal, the ruby was cut and faceted by a team of artisans into a cushion-shaped stone, which, according to a report from the Swiss Gemmological Institute (SSEF), "resulted in vivid red hues due to multiple internal reflections."
Additionally, the ruby is "profoundly rich" in chromium which, when exposed to ultraviolet (UV) light, causes it to radiate a fiery red fluorescence, further enhancing its vibrancy, Fura Gems reports.
"Important gemstones, such as Estrela de Fura, are extremely rare, and a beautifully faceted gem-quality ruby of 55.22 carats is almost unheard of," says the company's founder and CEO, Dev Shetty. "From the in-depth analysis and study of the stone, through the process of cutting and polishing, we have worked with the utmost care and respect for the ruby, recognizing its importance and stature."
Mozambique has a rich history of ruby mining, Fura Gem reports, with the first significant discoveries of deposits in the country dating back to the 1960s. In the early 2000s, mining gained momentum with the discovery of the Montepuez ruby deposit in the northern part of the country, where the Estrela de Fura rough crystal was found.
"The miraculous discovery of the 101-carat Estrela de Fura was of immense importance, shocking all those in the jewellery world," says Quig Bruning, head of Sotheby's Jewelry for the Americas.
The current world record price for a ruby sold at auction was achieved at Sotheby's Geneva in 2015 with the sale of the 25.59-carat "Sunrise Ruby." The Burmese stone sold for US$30.3 million, representing a per carat price of approximately $1.18 million.
"[Estrela de Fura] is undoubtedly positioned to become the standard bearer for African rubies—and gemstones in general—bringing global awareness to their ability to be on par with, and even outshine, those from Burma, which have traditionally been the most desirable and recognizable source for rubies," Bruning says.
Estrela de Fura will be exhibited in Hong Kong, Taipei, China, Singapore, Geneva, and Dubai before being auctioned at Sotheby's Magnificent Jewels in New York on June 8.