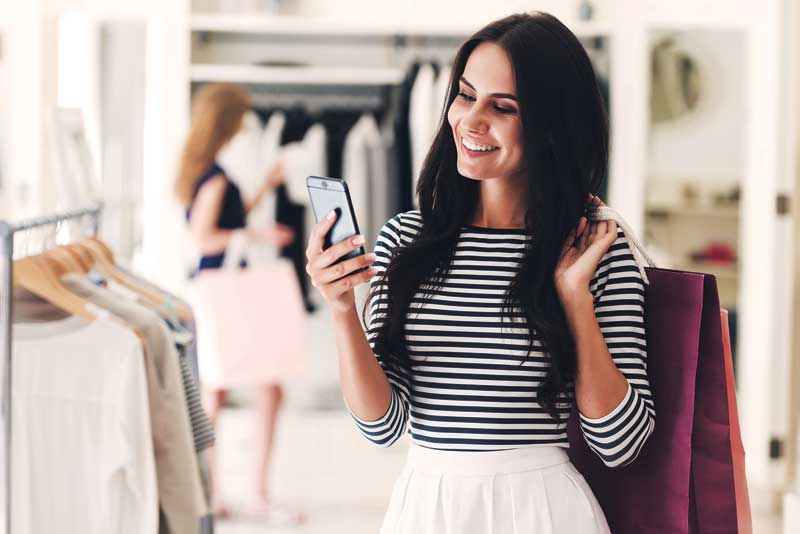 By Jennifer Shaheen
Three-quarters of all Canadians have a smartphone or mobile device. As you would expect, this radically impacts retail businesses. Shoppers use mobile devices to discover and research designers, brands, and products prior to making purchases. In store, mobile devices are used to access further information about products or policies. Once a purchase has been made, the mobile device is a tool customers commonly use to share shopping experiences and products, access customer service as needed, and post reviews.
Jewellery retailers have an opportunity to connect with customers at every point in the shopping process, but few are fully taking advantage of the many possibilities. Making the most of mobile can increase in-store traffic, boost sales, and strengthen the relationship you have with your customers.
Discovery: Before your customers know you
Discovery is the first step in the sales funnel. According to a 2016 survey by InsightsWest, a British Columbia-based market research firm, more than half of Canadians visit Facebook several times a day, and more than one in five regularly check Instagram and Pinterest. These social media channels are an ideal opportunity to showcase your merchandise and the unique experiences your store offers. It's important to keep in mind mobile versions of each platform have different features compared to their desktop counterparts. Your first goal is to capture the customer's attention, creating interest and curiosity, motivating them to explore further.
According to the Media Technology Monitor, which surveys Canadian's social media usage annually, including both Allophones and Francophones in their research, seven out of 10 Canadians regularly watch video on social media. YouTube is by far the most popular platform, and more than half of active social media users in Canada create and upload their own videos.  Jewellery retailers have been taking advantage of video's popularity by leveraging their relationship with their best customers. Sharing proposal or engagement videos is a commonly practiced strategy. The presentation moment, or when a customer sees their custom jewellery creation for the first time, is also often captured and shared. These opportunities make for powerful content; the most shareable videos are short with a strong emotional hook leaving the viewer smiling.
It's important to be both realistic and strategic with your mobile marketing. Though most jewellery retailers don't have the resources available to maintain a superior presence on every single social media channel, it's essential to have a robust mobile-friendly website. In addition to that, you will want to select the platform that's most popular with your customer base.
In Ontario, by far the most connected province, Facebook is the most popular platform, followed by Pinterest and Instagram. The Media Technology Monitor reports that newer platforms such as Snapchat and Tumblr are gaining followers rapidly, particularly in Vancouver, Ottawa, and Toronto—cities that perhaps not, coincidentally, have slightly younger, more affluent demographics than the country as a whole.