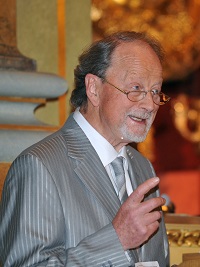 A winner has been named for the Canadian Gemmological Association's (CGA's) first-ever Diamond Award. Alan Hodgkinson, president of the Scottish Gemmological Association (SGA), will be taking the inaugural honour, which recognizes an individual who has made significant contributions to gemmology.
"Alan's contributions to gemmology in Canada have been unsurpassed," said Donna Hawrelko, president of CGA. "He has helped spark interest and furthered understanding with students and gemmologists across the country."
In addition to his role as SGA president, Hodgkinson is an honourary CGA member and an honourary registered valuer who has received awards from industry bodies such as the American Gem Trade Association (AGTA) and the Gemmological Association of Great Britain (Gem-A). He is also the inventor of the synthetic emerald filter and the stained green jadeite filter.
"CGA would like to congratulate Alan and all the other nominated candidates," said Hawrelko. "We are so fortunate to have such a high caliber of nominees, and it really attests to the outstanding level of commitment and passion felt for gemmology not only in Canada, but also worldwide."
Hodgkinson will receive the award at CGA's 60th anniversary conference, which will run October 19 to 21 in Vancouver. There, he will also deliver a presentation on natural gemstone detection.