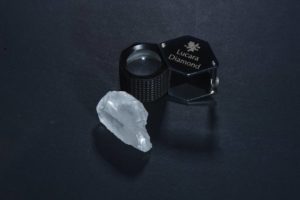 A 127-carat diamond has been found at a Canadian-run mine in Botswana.
The gem was discovered at the Karowe mine, which is operated by Vancouver-based Lucara Diamond. It joins a roster of 129 diamonds larger than 100 carats that have been found at the mine since production began in 2012.
"The recovery of this latest high-value, top white, 127-carat diamond attests to the remarkable nature of the Karowe ore body, which has consistently delivered large, high-value diamonds throughout its history," said Eira Thomas, CEO of Lucara.
In 2018, 33 diamonds exceeding 100 carats were found at Karowe. Of these, five weighed more than 300 carats. A total of 12 diamonds larger than 300 carats have been uncovered there over the mine's lifetime.
Also since production began, Lucara has sold 180 Karowe diamonds for prices exceeding $1 million, and 10 for more than $10 million.
It intends to continue developing the operation to support the recovery of more sizeable diamonds.
"In 2019, mining will largely be focused on the high-value south lobe, including contributions from the newly refined EMPKS unit, which is now understood to be the source of both the historic 1109-carat Lesedi la Rona and the 813-carat Constellation, which sold for a record US$63.1 million," added Thomas.