By Duncan Parker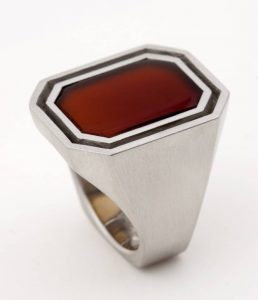 We don't tend to think of men and jewels at the same time, except for the stereotype of the hesitant and terrified young man headed for a diamond seller. Aiming for a symbol of a lifetime of wedded bliss, he buys a diamond instead of a far more 'useful' extra car, a drone, or an exciting weekend in Vegas.
I've encountered lots of men who have wedding rings, but don't wear them. "I'm not used to it," is the usual explanation, or perhaps, "I'm not a jewellery person." I've also heard some men say, "It interferes with my work." Rubbish.
Old-school 'madmen' masculinity allowed for jewels. Tie bars, tie tacks, cufflinks, and pinkie rings decorated the 'manly man' of the 1950s and 1960s, and remained popular into the 1970s. By the 1980s, the escalating price of gold led to growth in heavy neck chains, ID bracelets, and big knuckle-duster rings that screamed, "Look how well I'm doing!" The essence of 'hard masculinity,' Mr. T, wore what was reported to be 14.5 kg (32 lb) of gold chains around his neck during that time.