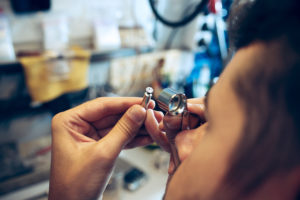 For the first time, Canadian designers are being invited to enter the Shining Light Awards, presented by the De Beers Group Designers Initiative. Traditionally, the competition has been open only to entrants from South Africa, Botswana, and Namibia.
With the theme of 'Heroines and Heritage,' this year's contest requires submissions reflecting femininity, national pride, strength, heritage, wisdom, and beauty.
Entries must consist of a diffusion line collection including one solitaire ring, one set of earrings, one pendant, and one bracelet or bangle, all with or without pavé. As the awards focus on Forevermark diamonds, the regulations disqualify submissions incorporating:
imitation or synthetic gems;
treated or processed diamonds;
other gemstones, semiprecious stones, or pearls; or
materials from endangered species.
"The Shining Light Awards have proven to be a valuable design platform to showcase talent and open opportunities for young people within the diamond sector and international markets," said Stephen Lussier, executive vice-president of De Beers Group and CEO of Forevermark. "This is in line with De Beers Group objectives on beneficiation through skills development of the youth."
Jewellers, jewellery designers, individuals actively involved in designing and manufacturing jewellery, and those working in other creative disciplines may enter the competition, provided they have graduated from a relevant program within the past two years.
"Over the years, we have seen how the Shining Light Awards have presented students with a great opportunity to develop their skills in jewellery manufacturing," said Constantino Papadimitriou, head of brand strategy and innovation at De Beers Forevermark. "We are looking forward to seeing the journey they take in interpreting the theme and bringing it to life."
Winners from each country will have the opportunity to attend a year-long apprenticeship program at the Faculty of Design at Italy's Milan Polytechnic. Three-month internships at Forevermark or a local design program will be offered to runners-up.
Submissions for this year's awards are due January 31. For more information, click here.