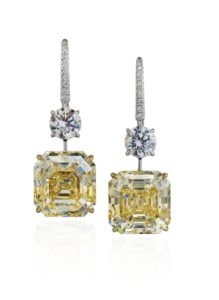 The private sales division at Christie's has teamed up with luxury menswear provider Brioni to present 'A Diamond Affair,' a London-based selling exhibition focused on diamonds. From October 29 to 31, buyers will have the chance to view and immediately purchase diamond jewellery, loose stones, and artwork, as well as Brioni clothing.
Among the pieces Christie's describes as highlights of the sale are a 3.42-carat vivid blue heart-shaped diamond, a tiara featuring 100 carats of diamonds, and a pair of earrings set with fancy intense yellow diamonds weighing 13.35 and 12.03 carats. The artwork on display is by graphic artist John McLusky, who serialized Ian Fleming's James Bond novels in the 1950s and 1960s.
As an initiative by Christie's Private Sales, this event targets collectors who wish to make purchases outside the regular auction calendar. For more information, click here.