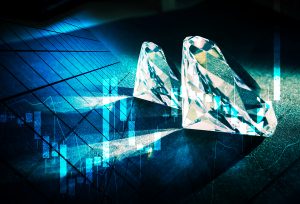 Despite a strong start to 2018, Rapaport's diamond index for March indicates prices for the gem have started to cool. Modest declines or stable performance were reported in most categories for the month and for the year's first quarter.
The index, which compiles data based on the asking price per carat of the best-quality diamonds sold on Rapaport's website, revealed a price decline of 0.1 per cent for one-carat diamonds during the month. One-carat prices also saw an increase of 2.8 per cent for the quarter, but declined 1.5 per cent year-over-year.
Results were mixed for other categories, with the indexes for 0.50- and 0.30-carat diamonds increasing by 1.1 and 0.4 per cent, respectively, and three-carat diamonds seeing a decline of 0.4 per cent.
In a press release, Rapaport indicated this softening of prices is likely due to global factors such as tightening credit and slower trading, suggesting the effects of the Nirav Modi scandal and sluggish sales at this year's Hong Kong shows are still being felt.
De Beers' two to three per cent price increase for rough diamonds also added strain for manufacturers, while declining emphasis on diamonds at Baselworld ruled out the show as a bolstering factor. However, the future looks stable—retailers are continuing to restock after North American and Chinese holidays, cutters are maintaining steady polished prices, and spending is beginning to pick up again in China. There is also some buzz surrounding the selling opportunities that may be introduced by two new trade shows (CARAT+ and GemGenève) slated to come to Belgium and Switzerland in May.
However, Rapaport expects an overall slowing of polished diamond trading in the typically quiet second quarter of the year.