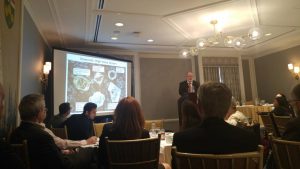 Canada's diamond industry gathered in Toronto to share knowledge and insights at The Northern Miner's inaugural Diamonds in Canada Symposium on June 11. The Algonquin Room at the Fairmont Royal York Hotel was abuzz with discussions of all things diamond-related, from mining technology to the launch of Lightbox, De Beers' new synthetic diamond line. Organizers noted attendee turnout was better than expected, an encouraging indicator of renewed interest in Canadian diamonds.
This invitation-only event featured seminars and investor presentations from diamond experts across Canada. New areas of exploration, the unique considerations of underground mining, and questions of geology, blockchain, and market growth were just a few of the topics on the agenda.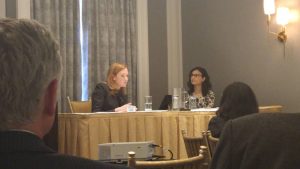 The day began with individual seminars (including presentations from industry analyst Paul Zimnisky and SRK Consulting's Jarek Jakubec and Casey Hetman), then moved into panel discussions in the afternoon. The event closed with extensive 'fireside chats' with Grenville and Eira Thomas, father-and-daughter mining executives who were involved in the discovery of the Diavik mine in the Northwest Territories. In discussing the discovery, their relationship, and of course the future of the trade, both stressed the importance of remaining resilient and optimistic—and indicated they see a bright future for Canadian diamonds.
"I think there's still lots to find in Canada," said Eira Thomas. "I think we've maybe found the easiest things."
~By Carly Midgley