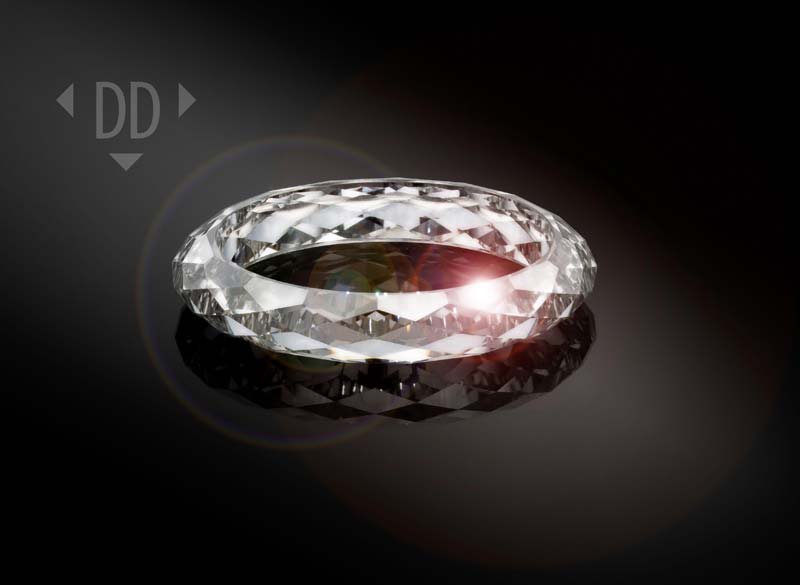 Dutch Diamond Technologies (DD) recently unveiled the world's first ring made entirely from a chemical vapour deposition (CVD) lab-grown diamond.
Dubbed 'Project D,' the ring was made from a piece of 155-carat synthetic diamond, which was polished using laser cutting and traditional methods to have 133 facets. With a total weight of 3865 carats, the piece took a year to manufacture, reports DD.
"For our 10th anniversary, we wanted to create something stunning that would highlight our innovative and high-tech techniques," said Ton Janssen, company CEO. "I think we've more than succeeded with the one-off 'Project D' ring. It's a true European ring: grown in Germany, cut in the Netherlands, and graded in Belgium."
Diamond lab HRD Antwerp analyzed the ring and delivered the following grading results:
Clarity–VVS2;
Colour–E;
Fluorescence–NIL;
Polish–very good; and
Symmetry–excellent.
"DD might be relatively new to cut diamonds for the jewellery market, but they have created an impressive ring for their 10th anniversary," said Michel Janssens, CEO of HRD Antwerp, "The outstanding cutting and polish work has resulted in a brilliant light reflection which emphasizes the beauty of the ring."
Growing a diamond with the CVD process requires a heated mixture of hydrocarbon gas and hydrogen in a vacuum chamber at very low pressure and temperatures of 900 to 1200 C (1652 to 2192 F).
To read more about synthetic diamonds and their effect on the industry, check out this feature story by Giselle Saati from the August 2018 edition of Jewellery Business.