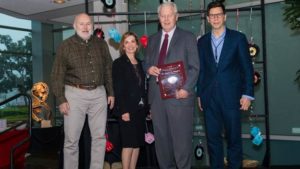 The Gemological Institute of America (GIA) has selected the 2019 recipient of its highest honour, the Richard T. Liddicoat Award for Distinguished Achievement.
Dr. James E. Shigley, GIA distinguished research fellow, has earned this year's award for his commitment to gemmological research and furthering GIA's mission of promoting public trust in gems and jewellery.
Shigley's history at GIA spans more than 30 years, during which he has delivered numerous lectures and publications discussing diamonds, coloured stones, and gem identification. Over the past 35 years, he has been the author or coauthor of 195 scientific articles. Of the 79 pieces he has provided for GIA's journal, Gems & Gemology, 27 have received Most Valuable Article awards.
"Mr. Liddicoat believed deeply that GIA should have a strong research department, and thanks to Dr. Shigley's work—from the very inception of his career—this vision is fulfilled," said Tom Moses, GIA's executive vice-president and chief laboratory and research officer. "Dr. Shigley's selfless sharing of knowledge leaves a lasting legacy not only for GIA, but also for the gem and jewellery industry."
Shigley's accomplishments also include research into lab-grown diamond identification, documentation of important gem localities, and establishing characteristics of high-pressure, high-temperature (HPHT) lab diamonds.
He also played a fundamental role in the creation of the GIA Gem Project. This 2800-stone collection incorporates 255 minerals and is employed for research, education, and display purposes.
Named for the second president of GIA, the Richard T. Liddicoat Award has only been granted to 13 individuals since its inception in 1994. Shigley adds the honour to his roster of previous awards, which include the 2007 Antonio C. Bonanno Award for Excellence in Gemology from the Accredited Gemologists Association (AGA) and the 2017 American Gem Society (AGS) Lifetime Achievement Award.