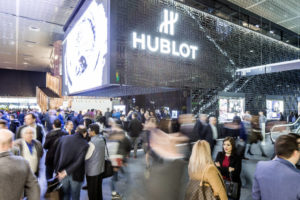 A slew of changes are in the works for Baselworld organizer MCH Group, the company reported in a recent release. Efforts are being made to reduce costs, improve efficiency, and adapt corporate strategies to meet the needs of both a changing market and the company itself.
"We must and wish to further develop our classical live-event competence into an integrated experience-marketing competence in the physical and digital fields," said Hans-Kristian Hoejsgaard, who has served as MCH Group's interim CEO since September. "Our biggest challenge lies in finding the right balance between the measures required to stabilize the company and the investment that—despite limited resources—we must make in the future."
While some planned initiatives focus on enhancing existing shows, others involve downsizing. For instance, MCH Group has announced it will no longer be developing a portfolio of regional art fairs. Instead, work will be put into updating and improving offerings such as Art Basel, Masterpiece London, and Baselworld. The company has already begun investing in changes to Baselworld 2019, and says it is collaborating with exhibitor committees to further evolve the concept in 2020.
Spearheading these developments is an internal task force led by the group's CFO, Beat Zwahlen.
"We wish to make better use of MCH Group's potential by merging the large number of extensively autonomous profit centres into an integrated company group," said Hoejsgaard. "We will be developing a group-wide vision and a group-wide strategy, which we will then implement throughout the company group."
MCH Group acknowledges these initiatives will have an effect on its financial results for 2018 and its budget for the following year, but is unable to share exact figures at this time. However, the company has confirmed one of its major goals is to achieve the best possible financial results for 2019.