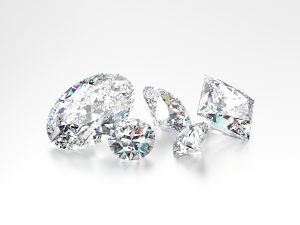 The diamond trade did not benefit from its usual boost following the Hong Kong Jewellery & Gem Fair in September, Rapaport indicates in its latest diamond index. Polished prices are continuing to slide, with trade tensions, weakening currencies, and various holidays contributing to a decline of 0.3 per cent in one-carat diamond prices.
Prices for 0.30- and 0.50-carat diamonds also dropped in September, with the former falling by 2.5 per cent and the latter sliding one per cent. Three-carat diamonds saw a very slight price increase (0.1 per cent) for the month, but have declined overall, falling 0.8 per cent year-over-year.
However, year-to-date and year-over-year prices have risen for the other three categories, in the following amounts:
4.9 per cent year-to-date and 5.9 per cent year-over-year for 0.30-carat diamonds;
4.7 per cent year-to-date and 3.7 per cent year-over-year for 0.50-carat diamonds; and
2.2 per cent year-to-date and 1.4 per cent year-over-year for one-carat diamonds.
In the case of one-carat stones in particular, these numbers have been bolstered by strong demand from U.S. and Chinese buyers in the first half of the year, Rapaport says. Demand remains stable for one-carat diamonds that are also D to H colour and VS to SI. In the smaller sizes, D to J, SI diamonds are holding similarly steady.
Rapaport attributes some of the softening to caution in the global market, driven by drops in the yuan and Indian rupee (which fell 3.8 and 5.9 per cent, respectively). However, hopes are high for the holiday season, when jewellery sales may improve sufficiently to strengthen polished prices.