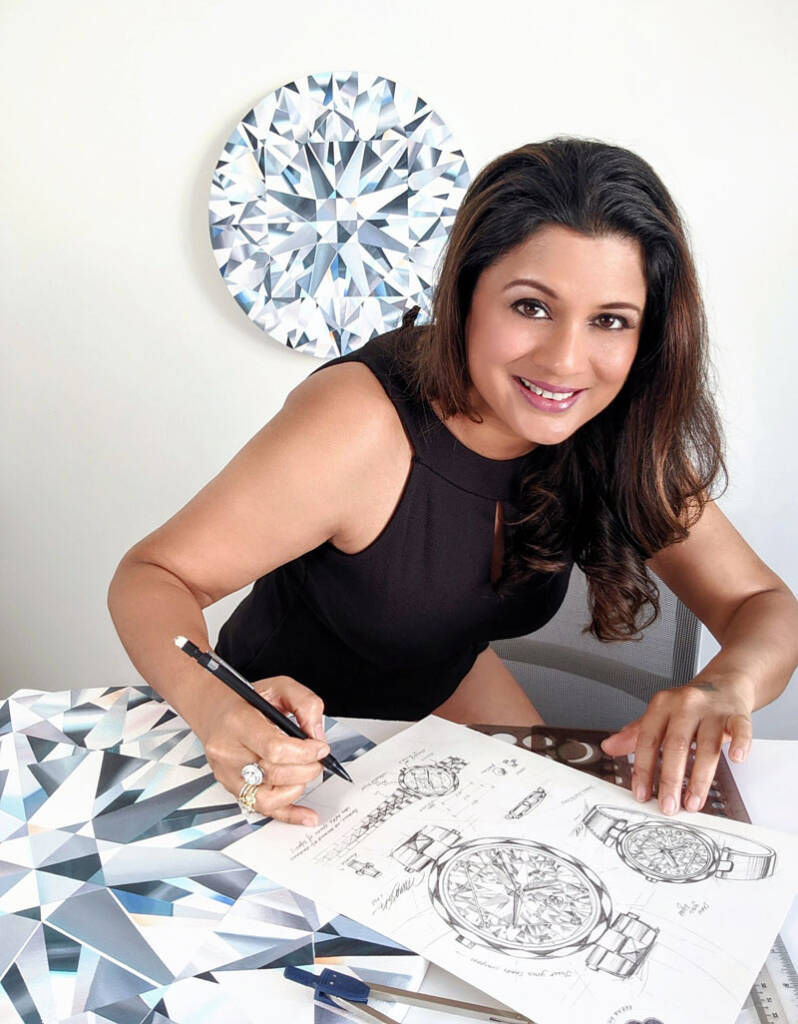 The hyper-realistic diamond paintings of Toronto-based jewellery designer and artist Reena Ahluwalia are now available as 'wrist art.'
Ahluwalia has launched 'Coronet by Reena,' her first-ever diamond watch collection. The Swiss-made timepieces, which feature natural diamonds, showcase the artist's signature 3D diamond paintings on their dial.
"This collection is very special because it ties in the message of trusting our inner compass and brilliance that is behind the body of my work," Ahluwalia tells Jewellery Business. "It's also an artful coming together of disciplines I am known for: technical innovation in jewellery design and my paintings of diamonds."
The gender-neutral timepieces, which come with either stainless steel or leather straps, feature a watch bezel reminiscent of a diamond's crown facets. The collection is available in three styles: white, yellow, and pink diamond.
"The central focus of my watches is my hand-painted diamonds on the dial, embodying all those who see themselves as diamonds—full of brilliance, resilience, and strength," Ahluwalia says. "For me, it's the handcrafted detail that has a sense of individuality and a feeling of something that has been lovingly made."
"More than an outward display of flashiness, I designed the watches to be of internal and personal value to the wearer that heightens their own sense of true self," she continues. "If anything, the COVID pandemic has made us dig deeper and reveal what is truly valuable to us. Now more than ever, we need a connection to who we are, what we love, and how we show it. I want my collection to reflect this meaningful newfound sensibility."
'Coronet by Reena' is part of the designer's extended partnership with Hong Kong-based company Aaron Shum Jewelry. Ahluwalia previously collaborated with the company on her 'Mudan' timepiece, which holds the Guinness World Record for most diamonds set on a watch.
The full collection can be seen here.
For more, check out the video below, courtesy Reena Ahluwalia.