Bain & Company and Antwerp World Diamond Centre (AWDC) have produced their annual Global Diamond Report. From the perspective of the diamond industry as a whole, this year's report assesses all of 2016 and the first half of 2017, with some predictions concerning what's next.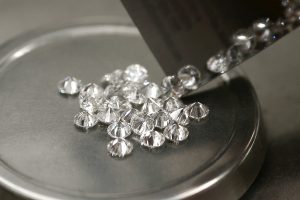 "AWDC initiates these reports because we believe an informed diamond community is a prepared diamond community, and the challenges we face in Antwerp are intertwined with those the industry faces globally, now and in the future," said Ari Epstein, CEO of AWDC.
The report looks first at the diamond industry's performance in 2016, as this lays the foundation for the state of the market now. Last year saw a mixed bag of factors come into play, from a 20 per cent revenue improvement caused by rough diamond demand to faltering consumer interest and strong competition.
Revenue dropped slightly in the cutting and polishing segment due to these factors and a decline in polished diamond prices.
"The midstream segment's future health will depend on the interplay of rough and polished prices, as well as the segment's ability to make continued operational improvements," said Olya Linde, one of the report's authors and a partner at Bain. "On that front, midstream players are maintaining intensive operational improvement drives, focusing mainly on reducing days to market, shortening cutting and polishing cycles, and securing financing. They are also implementing new technologies, such as automated cutting processes and advanced digital mapping and modelling of diamond cutting, to optimize yields."
Overall, the report indicates fairly flat performance for 2016. For instance, although the United States maintained its status as the industry's largest market, its sales flatlined last year, ending a long-sustained trend of growth. Global rough diamond production also remained level at 127 million carats, while the performance of the industry overall continued to lag behind other luxury markets thanks to decreased generic marketing spend.
In the eyes of rough diamond players, it seems, marketing is the key to improving the health of the industry. This segment planned to invest approximately US$150 million in generic and private brand marketing in 2017—a 50 per cent increase over previous years—to offer renewed strategies that account for evolving preferences and channels.
"Increasing demand for diamonds is a high-stakes game for the entire diamond value chain. Retailers are of course focused on making diamonds more attractive for consumers, but that's only part of the story," said Linde. "Continued softening demand could have significant economic implications for entire nations that depend on the industry as one of their sole sources of revenue."
The report states 2017 should have remained fairly stable for the diamond industry and particularly its cutting and polishing segment, despite a three per cent revenue decline posted by suppliers in the first half of the year. It also saw improvements for countries such as India, which struggled in 2016 due to demonetization.
Ultimately, the report's outlook for the future appears to be positive—provided diamond jewellery demand remains healthy and lab-grown diamonds do not significantly overtake their mined counterparts. These two factors will likely be watched closely in the coming year.