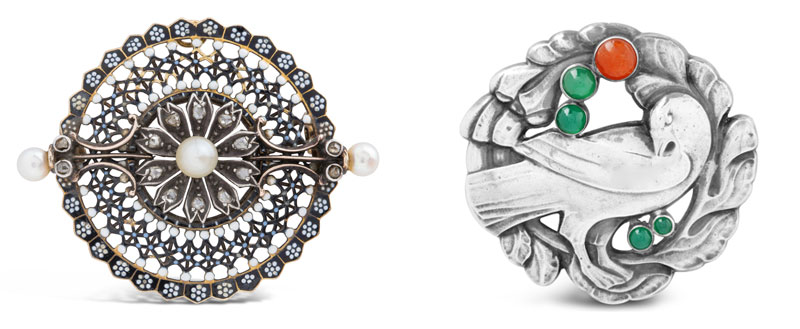 Silver, while often regarded as 'second best' to gold, has long held its own in the hearts and minds of jewellers, designers, and collectors alike. Indeed, while the metal is modestly priced, jewellery aficionados tend to appreciate the time and labour required in silversmithing and are happy to invest in the time, work, and love that has gone into a well-crafted piece.
Further, writes JB Estate columnist Duncan Parker, silver has found its place amongst the 'in-crowd' with today's consumers. In the current market, young shoppers are looking for fun jewels and trendy stackables; as a jewellery retailer, if you can offer an enduring jewel for little more than millennials spend on their dinner being delivered to their door, you're halfway to a new sale.
Drawing on more than 30 years' experience as a gemmologist, jewellery specialist, and appraiser, Parker dives deep into the history of silver, exploring the endless possibilities of this timeless metal.
Check out the excerpt below:
Silver is cool—both in colour and in possibilities. This precious metal has its ups and downs, but, even in its ups, it continues to fit even the most modest budget. Many budding jewellers and designers work in silver because it lends itself to creativity without much added worry about the value of unsold inventory. Likewise, plenty of highly skilled, established, and renowned jewellers continue to work in silver because of the look, feel, and behaviour of the metal.
These professionals are in good company: silver is a precious metal, as well as a 'noble' one. The latter doesn't mean that it belongs to nobility—though, historically, much of it probably does (or has in the past). Noble metals are those that resist chemical action and won't tarnish or break down in normal circumstances. These include gold, silver, and platinum.
Indeed, if an article of silver, say, were to become buried in the eruption of Mount Vesuvius; or be thrown in anger into the River Thames; or sink in a pillaging Spanish Galleon off the Florida Keys; or be buried in an Etruscan tomb for 2500 years, it is likely the piece would still showcase its beauty as its maker intended and wouldn't rust away or break down like so many other materials.
To read the rest of Parker's column, be sure to check out our February issue!