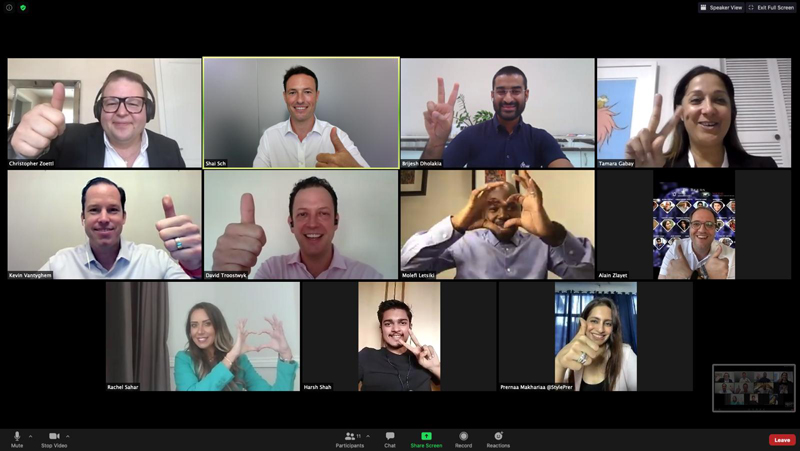 When it comes to the global diamond industry, there is strength in numbers.
This is the attitude of the World Federation of Diamond Bourses (WFDB) Young Diamantaires (YD). Formed in 2016, the organization strives to represent the next generation of global diamond professionals through community, activism, and networking.
Last week, the group led the first day of meetings of the 39th World Diamond Congress with a presentation attended by more than 100 YD members from around the world. The virtual event, which was the organization's first meeting within the framework of the congress, discussed YD's many initiatives and offered an optimistic look at the future of the trade.
"You are the next generation of diamond leaders, and the WFDB greatly values your contribution to the world diamond industry," said WFDB acting president, Yoram Dvash. "I hope to work with you more closely in the future."
"This meeting is a culmination of four years gently guiding an inspirational groups of Young Diamantaires who have a demonstrated a passion to improve their industry and assist those who are less fortunate," added YD founder and WFDB executive committee member, Rami Baron. "The WFDB, under the leadership of Yoram Dvash, has shown through this inaugural meeting they are keen to hear the ideas and goals of this next generation and are willing to give them their support."
Jewellery Business caught up with Kitchener, Ont.,-based YD member, Kevin Vantyghem, to learn more about the organization and how it is working to strengthen the jewellery industry.
Jewellery Business (JB): How has YD expanded your understanding of the global diamond industry? How do members support and educate each other?
Kevin Vantyghem (KV): The group has expanded my understanding of the global diamond industry by connecting me with YDs all over the world, as well as from all aspects of the diamond pipeline. We have members from every sector. In our primary WhatsApp group, members can pose a question they will get at least four or five responses very quickly. Within that, we have sub-groups—one that I help manage, for example, discusses equipment used to test natural diamonds, as well as who is using what, their experiences, and more.
It's amazing to be a part of this group and see the support, especially during COVID. You can reach out, ask how others are coping and dealing with certain situations, and see if [their experiences] can apply to your own; it is proof we aren't in this alone.
Listening is among our main core values: we listen to the next generation of diamantaires and to members of the diamond jewellery trade, regardless of organization or segment. We provide a platform for free discussions on various topics relevant to our industry.
JB: What is the scope of COVID's impact on the trade? Are you feeling optimistic or, maybe, a bit pessimistic about the months and years to come?
KV: This is a question I addressed at the congress meeting. As a YD member for four years, the amazing passion and hard work of fellow members has given me renewed optimism for the trade. We are seeing necessary change happen and younger voices are being heard. I see strength in our group, and I am very excited about the future of YD and, importantly, the natural diamond trade.
Even in the early days, it was awesome to see how we mobilized the YD group to brainstorm about the ongoings of natural versus lab-grown diamonds and the noise surrounding it—and we did something about it. The YD has always been a group that doesn't complain about what's going on, but takes action! The industry has to know it has groups like YD behind it.
I don't think we will be able to comprehend the scope of COVID's impact on the diamond trade for several years. There is the good and the bad, but, ultimately, I think changes that needed to be made are happening faster, which is good. We will pull out of this a stronger, better industry. This is not to say it will be easy and we won't have challenges, but, again, being part of supportive groups like YD shows me there is great hope. We will be cautiously optimistic in the months and years to come.
JB: What should Canadian jewellery retailers know about the next wave of diamond consumers? What are some of the values these buyers possess and how can retailers effectively market to them?
KV: More to the question of value, diamonds have always had emotional value. In these times, it's interesting to see the value we put on each other and on the relationships we have with others. Over the past months, and continuing now, people are putting more of an emphasis on their relationships; they want to celebrate and commit with the purchase of a natural diamond to symbolize these bonds.
So, whether it is now or 2030, the bridal jewellery category, including engagement and wedding rings, will continue to be popular, as people will still be getting married. The next wave of diamond consumers is going to want to symbolize their relationships; we have seen this as millennials get older and want to marry. There is also a huge potential within LGBTQ communities, and with androgynous styling, men's jewellery, and memorial jewellery. It will come down to 'less is more' and meaningful jewellery.
JB: How can Canadian jewellery professionals support YD? Are you accepting new members in Canada?
KV: Yes, there is a 'become a member' section on our website one can quickly fill out. Based on the information provided, the panel will give feedback. I am on the review panel for North America and we look forward to growing this chapter of YDs.
For more information on the Young Diamantaires, click here.
Check out YD's presentation at the WFDB's congress in the video below.