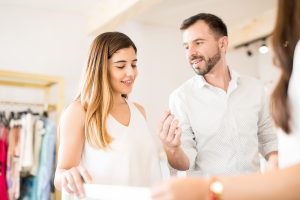 A recent survey from the Diamond Producers Association (DPA) and Harris Poll indicates U.S. consumers, at least, have limited faith in synthetic diamonds. Only 16 per cent of survey respondents indicated they believe lab-grown diamonds are 'real,' while 68 per cent said otherwise.
These numbers are compiled from the responses of approximately 2000 people, who were polled from May 3 to 7. The study also gathered a number of key words consumers associate with each type of diamond—in the case of natural diamonds, respondents used words like "genuine," "natural," and "authentic," but they referred to synthetic diamonds using the terms "manmade," "artificial," and "imitation."
"As consumers across generations have demonstrated, and this research confirms, real matters," said Jean-Marc Lieberherr, CEO of DPA. "The emotion and heritage carried by natural diamonds cannot be replicated by a factory."
When asked why they believe synthetic diamonds are not real, most respondents said it is because the gems come from humans, rather than the Earth.