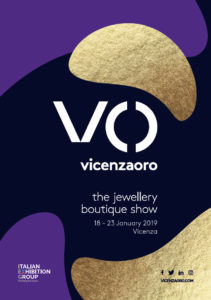 Elegance and future-forward thinking are two key elements of a recent rebranding of Italy's VicenzaOro show. The event's organizer, the Italian Exhibition Group (IEG), has revealed a new graphic design intended to reflect exclusivity, excellence, and an eye for trends.
It worked with consultancy FutureBrand on the reimagining, which comes just ahead of the show's next edition: VicenzaOro January, running January 18 to 23.
"The collaboration with FutureBrand has allowed us to present the evolution of an important event like VicenzaOro, which leaves the geographical territory to position itself among the most important business events at a world level and dialogue with operators across the entire supply chain," said Marco Carniello, IEG's director of jewellery and fashion.
FutureBrand representatives say the project presented something of a creative challenge, due to the event's already-high profile and Italy's well-established reputation for luxury.
"We were keen to help shape the future of an already-famous brand all over the world and create an image able to convey values such as competence, culture, and elegance—the pillars of the brand," said Lorenza Corengia, associate account director with FutureBrand.
The new design reflects these values using numerous visual strategies, including the incorporation of soft, organic shapes and colours suggesting class and elegance (primarily blue-violet with hints of gold).
To read our wrap-up of the show's most recent edition, VicenzaOro September, click here.