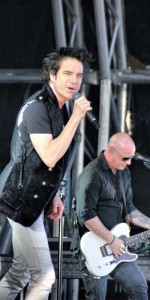 Virtual Diamond Boutique (V.db) has signed on as the premier sponsor of JCK Rocks the Beach 2016 at the upcoming JCK Las Vegas Show.
More than 3000 people will attend the event at the Beach at Mandalay Bay on June 5 from 8:30 p.m. to 11:00 p.m., as multi-Grammy and Billboard award winners Train take to the stage.
"We are honoured to host the industry at such a fun and inspiring networking event," says CEO and founding partner Tanya Nisguretsky. "As we build the Virtual Diamond Boutique network and bring diamond sourcing/sales into the 21st century, we choose to celebrate our growth with award-winning, progressive music, sprinkling 'Drops of Jupiter' and diamond dust into wholesalers', retailers' and manufacturers' ears."
V.db is a B2B network using app technology and high-definition imagery to help retail and wholesale businesses source diamonds 24-7. The app is free for retailers, while diamond wholesalers can list merchandise and fully customize the experience with retail partner log-ins.