By Brad Huisken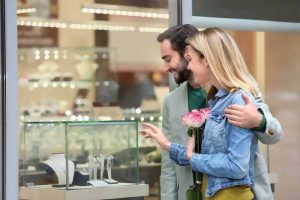 Bridal season is a significant contributor to the bottom line of most jewellery retailers. On one hand, there is great joy as customers prepare to embark on one of life's most inspiring and meaningful transformations. It is a great honour to be selected to produce the miracles that accompany a memorable and delightful occasion. Conversely, there is monumental stress as dreams and expectations threaten to collide infamously with the realities of practical abilities. Turns out magic wands are tougher to come by in the retail business than in the imagination!
From the perspective of everyone participating in the event, the combined contributions of all of the vendors create the magic. It is vital, then, for all the parts to function as an effortless, homogenous whole. Given wedding jewellery is an enduring symbol of the emotion and vows exchanged, that jewellery becomes a once-in-a-lifetime celebration itself. (If you doubt this, ask any couple who has lost a ring, or dropped a stone from it!)
It is incumbent on the jewellery retailer, then, to precisely fulfill the wishes of the couple while discreetly honouring such details as price, design, and production to the specifications of both marital partners, as well as co-operating with the bridal party's other selected product/service providers.