Selling to a new generation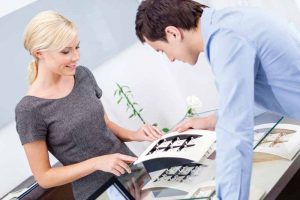 The ability to utilize technology in the retail market has boosted sales expediency for more than 20 years. The refinement of Internet functionality and the development of social media sites provide increased opportunities for retailers to showcase their appeal with products, pricing, and availability. (See Strapagiel's analysis, cited above.) When merchants offer standout brands and opportunities for shoppers to personalize their chosen designs, the product result is as special as the couple making the selections. Offering suggestions for grooms' bands, bridal party gifts and mementos, and commemorative bride/groom exchanges enhance the sale.
Another popular option is to partner with nearby wedding vendors (such as bakeries and photographers) who are likewise committed to complete customer satisfaction. The benefits build for the bridal couple, of course, as well as each of the partnering companies. Taking advantage of such opportunities to deepen relationships with customers and demonstrate a distinctive presence in the marketplace is precisely the culture that is essential to retail survival. Retailers can become indispensable personal assistants in whom great trust is placed.
Sharing is caring
Encouraging shoppers to evaluate, rate, and share with their peers all manner of comments about their experiences expands merchants' credibility. Retailers who maximize customization options are winners. Paired with great customer service, generous reward programs, consumer-generated coupons or promotions to share with others, and goods and services from other providers, it's possible to enhance reputations for caring, excellence, community co-operation, and fabulous events.
The millennial generation responds positively to the ability to offer generous options to friends and family (e.g. tagging close companions with freebies or preferred offers). In return, they tend to be generous in their recommendations. They feel they have scored a deal when they encounter cross-promotions and partnered offers from compatible merchants. They freely utilize and rely upon ratings and comments from their friends to assess the ability of a given merchant to provide them with the products and services most likely to enhance their lives: high-quality goods with great customization options, free shipping, recognizable branding, and competitive pricing. Insistence on and appreciation of high quality is a hallmark of the modern shopper.
Unhealthy materials from disreputable sources or shoddy workmanship have no relevance for discerning buyers, and many are quite outspoken when their needs in this regard are neglected. Social media sites provide ample opportunities for shoppers to share comments with their peer groups about every facet of their experiences.
Technology not only alerts these customers to merchant flexibility and product adaptability, but also facilitates rapid gratification for the shopper and her or his associates. Recommendations for simpatico stores, excellent products, and equitable pricing travel as rapidly as keyboarding skills will allow. Callouts about inhospitable merchants, inferior goods, or less advantageous monetary offers also travel in a flash.
The good news is younger persons in the marketplace are committed to assisting their elders in becoming more technologically sophisticated and assertive with their wants and needs as consumers. This is great news if retail professionals have breached the gap between 20th-century markets and current realities. As 'youngers' assist elders in obtaining positive results from modern technology, everyone benefits.